Statement by Canadian Muslim Organizations on the #1MillionMarch4Children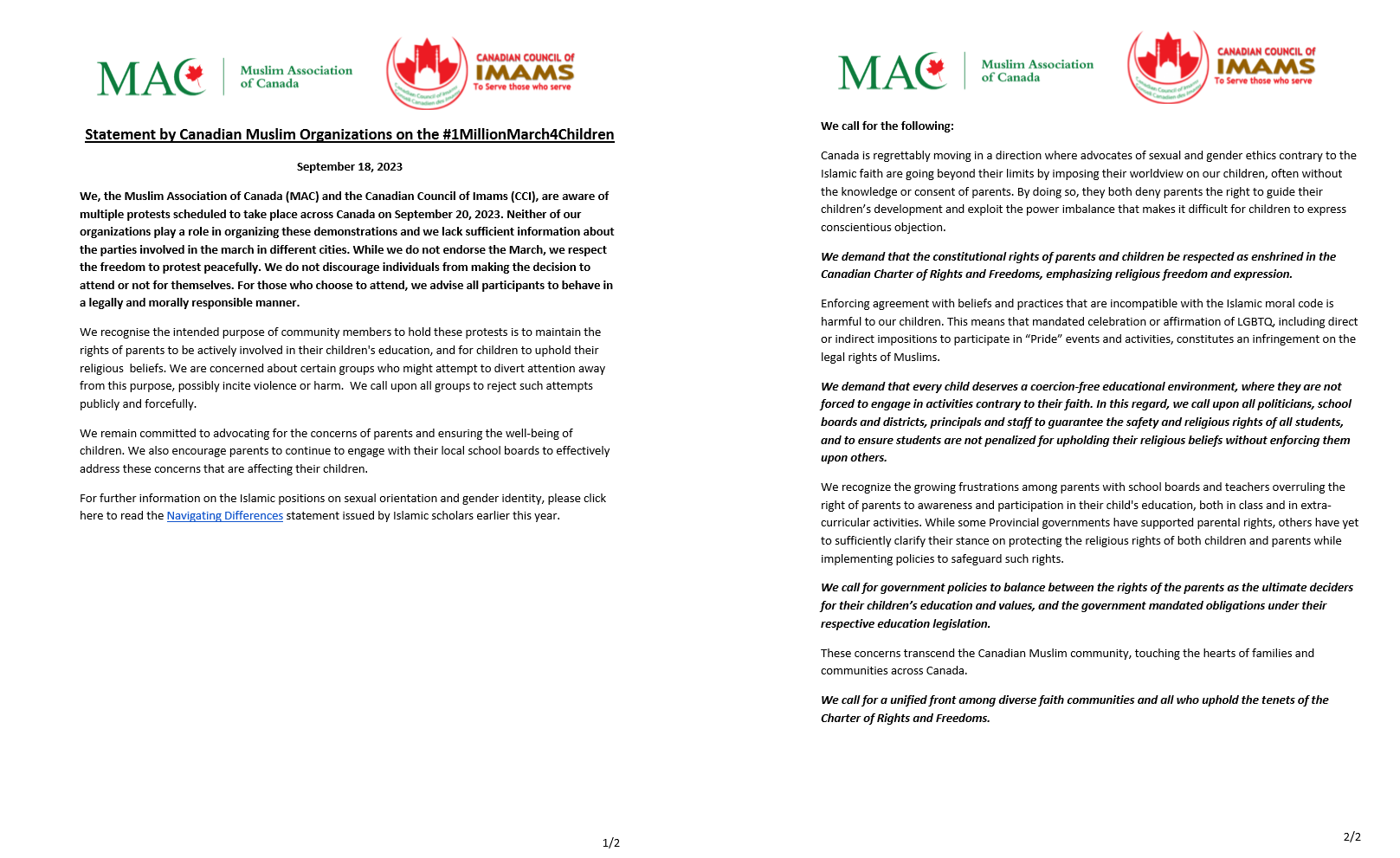 JOINT STATEMENT: Statement by Canadian Muslim Organizations on the #1MillionMarch4Children
September 18, 2023
We, the Muslim Association of Canada (MAC) and the Canadian Council of Imams (CCI), are aware of multiple protests scheduled to take place across Canada on September 20, 2023. Neither of our organizations play a role in organizing these demonstrations and we lack sufficient information about the parties involved in the march in different cities. While we do not endorse the March, we respect the freedom to protest peacefully. We do not discourage individuals from making the decision to attend or not for themselves. For those who choose to attend, we advise all participants to behave in a legally and morally responsible manner.
We recognise the intended purpose of community members to hold these protests is to maintain the rights of parents to be actively involved in their children's education, and for children to uphold their religious beliefs. We are concerned about certain groups who might attempt to divert attention away from this purpose, possibly incite violence or harm. We call upon all groups to reject such attempts publicly and forcefully.
We remain committed to advocating for the concerns of parents and ensuring the well-being of children. We also encourage parents to continue to engage with their local school boards to effectively address these concerns that are affecting their children.
For further information on the Islamic positions on sexual orientation and gender identity, please click here to read the Navigating Differences statement issued by Islamic scholars earlier this year.
We call for the following:
Canada is regrettably moving in a direction where advocates of sexual and gender ethics contrary to the Islamic faith are going beyond their limits by imposing their worldview on our children, often without the knowledge or consent of parents. By doing so, they both deny parents the right to guide their children's development and exploit the power imbalance that makes it difficult for children to express conscientious objection.
We demand that the constitutional rights of parents and children be respected as enshrined in the Canadian Charter of Rights and Freedoms, emphasizing religious freedom and expression.
Enforcing agreement with beliefs and practices that are incompatible with the Islamic moral code is harmful to our children. This means that mandated celebration or affirmation of LGBTQ, including direct or indirect impositions to participate in "Pride" events and activities, constitutes an infringement on the legal rights of Muslims.
We demand that every child deserves a coercion-free educational environment, where they are not forced to engage in activities contrary to their faith. In this regard, we call upon all politicians, school boards and districts, principals and staff to guarantee the safety and religious rights of all students, and to ensure students are not penalized for upholding their religious beliefs without enforcing them upon others.
We recognize the growing frustrations among parents with school boards and teachers overruling the right of parents to awareness and participation in their child's education, both in class and in extra-curricular activities. While some Provincial governments have supported parental rights, others have yet to sufficiently clarify their stance on protecting the religious rights of both children and parents while implementing policies to safeguard such rights.
We call for government policies to balance between the rights of the parents as the ultimate deciders for their children's education and values, and the government mandated obligations under their respective education legislation.
These concerns transcend the Canadian Muslim community, touching the hearts of families and communities across Canada.
We call for a unified front among diverse faith communities and all who uphold the tenets of the Charter of Rights and Freedoms.