MAC Give Organizing Blood drive with Canadian Blood Services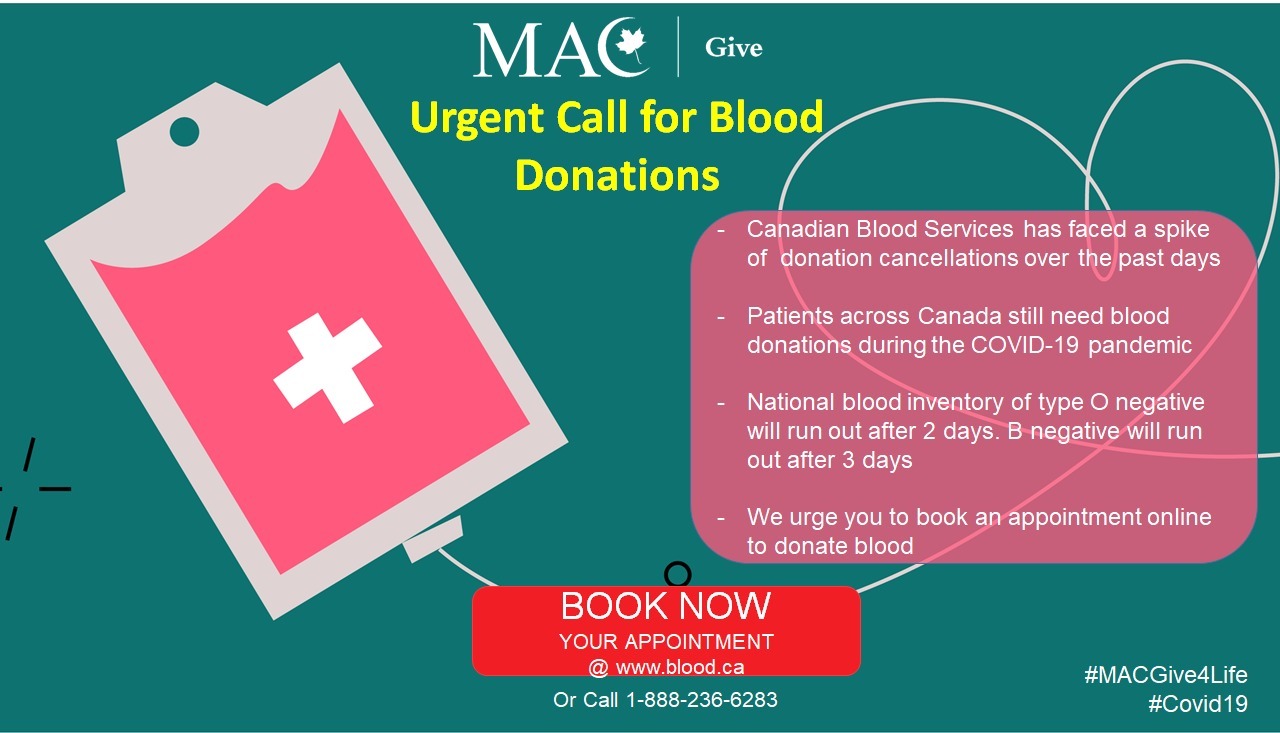 MAC Give Organizing Blood drive with
Canadian Blood Services
The Canadian Blood Services (CBS) has announced its concern about the possibility of blood shortages as the country grapples with the coronavirus pandemic, "particularly in light of the blood shortages already being reported in other countries affected by COVID-19". At the time of writing this statement, according to CBS website, https://www.blood.ca, the national inventory of blood type O negative can last for 2 days only, while that of B negative can last for 3 days.
MAC  Give Initiative
On behalf of the Muslim Association of Canada (MAC) and its MAC Give program, we are urging healthy members of our community to book online at CBS' website www.blood.ca, or via phone at 1 888 2 DONATE (1-888-236-6283). Every day blood products are needed for patients undergoing surgery, cancer treatments, and to save lives following traumas such as motor vehicle accidents.
CBS is assuring it's safe to donate blood during the COVID-19 pandemic. CBS has a robust cleaning and infection-control practices protect all donors, as well as staff and volunteers. All prospective donors are also carefully screened for any symptoms of illness, including very mild ones.
During a press conference today, Canada's Chief Public Health Officer, Dr. Theresa Tam, encouraged Canadians to keep donating blood, and noted that Canadian Blood Services has all the procedures in place to keep people safe.
Please take action, and book online a spot to donate blood now: www.blood.ca, 1 888 2 DONATE (1-888-236-6283)
Sources:
– Canadian Blood Services Official Press Release:
– GlobalNews Coverage here
– Montreal Gazette, Canada's Chief Public Health Officer encourages Canadians to keep donating blood, view here
#MACGive4Life #Covid19 #FlattenTheCurve #MAC