'A chilling effect': Muslim charities fall prey to Canada's double standards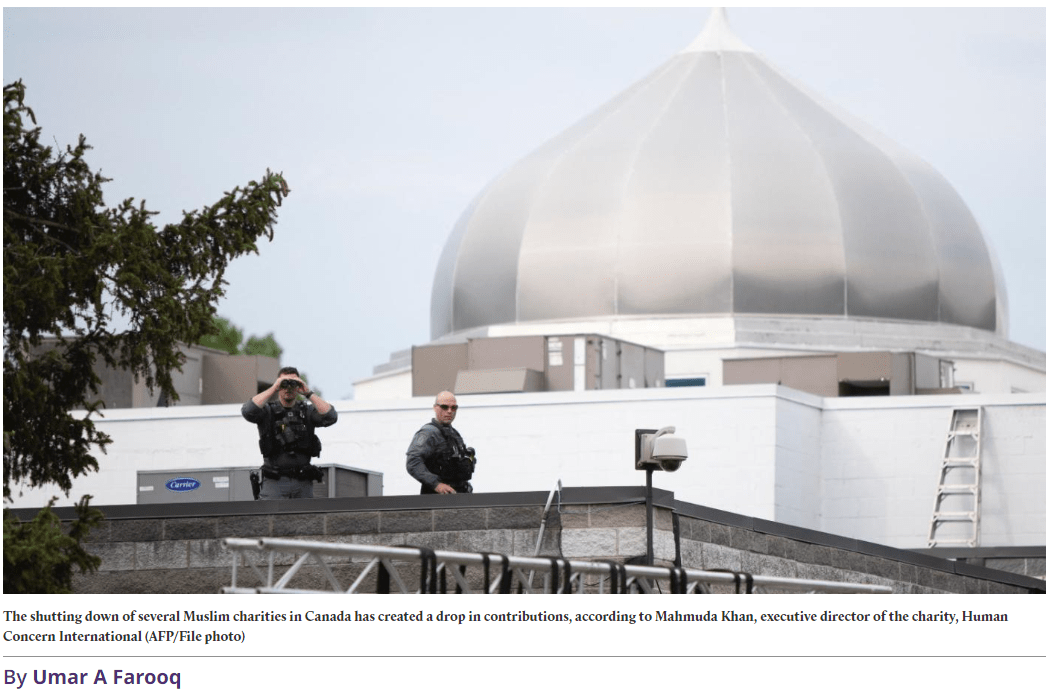 April 25, 2023
While many charities are given ample opportunity to object to being shut down, Muslim charities say they are not given the same chance
In March 2017, ISNA Islamic Services of Canada, a Muslim charity that operated in Ontario, was sent a notice that its charitable status was being revoked and that in 30 days it would be shut down without any other recourse.
The Notice of Intention to Revoke (NITR) was the result of a years-long audit, in which the CRA said the organisation failed to meet the necessary requirements to be constituted for charitable purposes, including failing to devote resources to charitable activities and maintain adequate books and records.The CRA also accused the organisation of possibly funding a Pakistani militant group.
By May of that year, it ceased to be a charity operating in Canada. But while the news coverage at the time largely focused on alleged terror links, experts in the charity sector say charities like this one have been a part of a decades-long clampdown on Muslim charitable organisations, in which they were unfairly targeted due to Islamophobic bias and then given an unequal appeals process.
Middle East Eye looked through the audits of dozens of charities over the last decade, and while most were given ample time and space to object to being shut down, none of the Muslim charities seen by MEE were given the same opportunities to object to and delay the revocation of their charitable status.
The Canadian government's conduct highlights the discrepancy between how some charities are treated during and after being audited and how the Canadian government treats Muslim charities, researchers, and practitioners in the charity sector have told Middle East Eye.
"This isn't fair because it's not the same way other faith groups or other sectors operate," said Mahmuda Khan, executive director of the charity, Human Concern International, a Muslim charity that was not shut down but was suspended.
"The fear that we have, the extra cautiousness that we have, the levels of due diligence and compliance that we're thinking of doing. [In] having forums and dialogues with others in the sector, I don't see that fear in others."
'Where's the fairness?'
Middle East Eye looked at 63 Notices of Intention to Revoke (NITRs) that were sent to Canadian charities between 2015 and 2019. Of those charities, 38 were allowed the opportunity to object and delay their revocation by submitting a response, while 25 were not given the same chance and would have had to obtain an order from the federal appeals court.
'The Muslim charities who were faced with audits and revocations were never granted the opportunity to delay the revocation of their status'

– Tim McSorley, International Civil Liberties Monitoring Group
However, MEE also viewed NITRs that were sent during that same period to five Muslim charities, all of which were told that regardless of whether they filed an objection, their charitable status would be revoked unless they received an order from the appeals court….
Read the full article: 'A chilling effect': Muslim charities fall prey to Canada's double standards | Middle East Eye
– Umar A Farooq, Middle East Eye