Future of Good Names Sharaf Sharafeldin as one of the Top 30 Canadian Social Purpose Newsmakers of 2022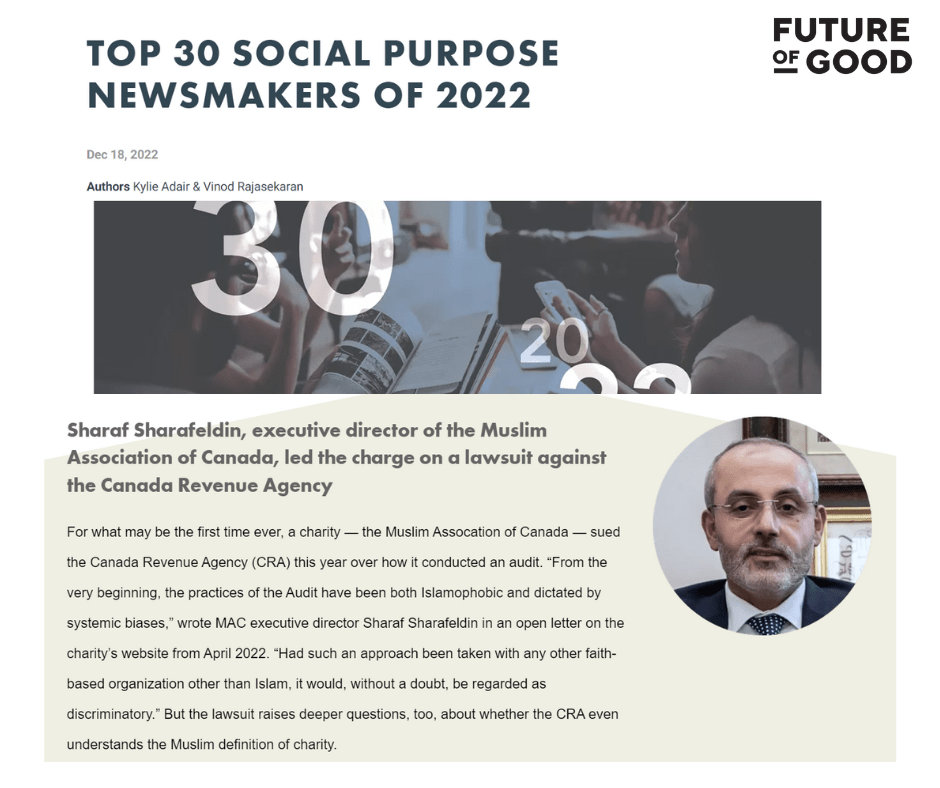 January 4, 2023 | Bismillahi Rahman ar Raheem.
We begin in the Name of Allah(swt) the Most Gracious, the Most Merciful.
Muslim Association of Canada (MAC) is grateful to Allah (swt) and pleased to share the news that Br. Sharaf Sharafeldin, President-Strategy, was named by Future of Good as one of Canada's Top 30 Social Purpose Newsmakers.
Br. Sharafeldin is a leader in Canada's charitable sector. Over the past two decades, he has led the expansion of Canada's largest Muslim charity.
Through the permission of Allah (swt), under his leadership, MAC has grown to include 13 chapters and operate 22 mosques and community centres and 30 schools. MAC currently employs over 1000 Canadians, engages several thousand volunteers from local communities, and serves more than 150,000 members of the Canadian Muslim community annually.
By the Will of Allah (swt), through Br. Sharafeldin's leadership MAC has become a bridge to Canada's thriving Muslim charitable organizations for government and other stakeholders. As a result of his years of sector experience, knowledge, and perspective, Br. Sharafeldin is often consulted by federal, provincial and municipal government leaders on emerging issues that impact the Muslim community. He also continues to actively engage and make significant contributions to conversations on public policy, social issues, the role of faith organizations through the pandemic and other important discussions on community development.
Over the past several generations, Muslims in Canada have worked tirelessly to establish a presence and build a community. Through 1980's, 1990's, and 2000's, Muslims in Canada were trying to build a narrative of what it means to be a Muslim and authentically live Islam in Canada; build frameworks for grounded identity formations that could nurture upcoming generations; support local community-needs; and build an effective means of responding to the needs of international causes. With unwavering focus, determination, and commitment, Br. Sharafeldin has played a primary leadership role in helping to build this narrative and build community-based institutions that become spaces through which Muslims across the nation can collectively thrive.
As one of the founding members of the organization, Br. Sharafeldin has also served as the Executive Director of MAC over the past 18 years. Most recently, he has become the President-Strategy of the organization, leading MAC's vision to build a narrative, identity and means for nurturing community growth for generations to come.
We pray to Allah SWT to bless the tireless efforts and dedication of Br. Sharafeldin.