Statement On MAC's Requests For The Government to Support the Charity Sector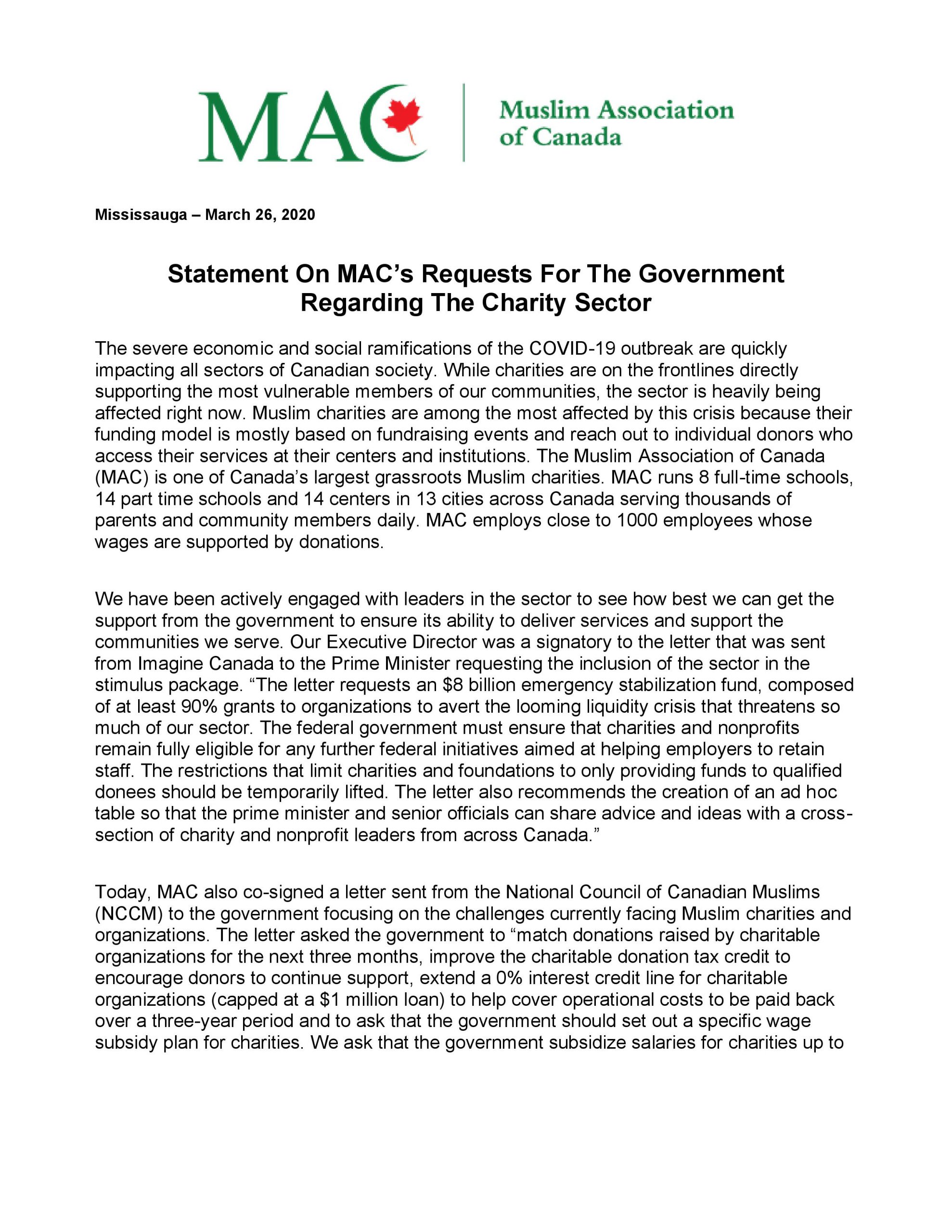 Statement On MAC's Requests For The Government to Support the Charity Sector
Mississauga – March 26, 2020 – The severe economic and social ramifications of the COVID-19 outbreak are quickly impacting all sectors of Canadian society. While charities are on the frontlines directly supporting the most vulnerable members of our communities, the sector is heavily being affected right now. Muslim charities are among the most affected by this crisis because their funding model is mostly based on fundraising events and reach out to individual donors who access their services at their centers and institutions. The Muslim Association of Canada (MAC) is one of Canada's largest grassroots Muslim charities. MAC runs 8 full-time schools, 14 part time schools and 14 centers in 13 cities across Canada serving thousands of parents and community members daily. MAC employs close to 1000 employees whose wages are supported by donations.
We have been actively engaged with leaders in the sector to see how best we can get the support from the government to ensure its ability to deliver services and support the communities we serve. Our Executive Director was a signatory to the letter that was sent from Imagine Canada to the Prime Minister requesting the inclusion of the sector in the stimulus package. "The letter requests an $8 billion emergency stabilization fund, composed of at least 90% grants to organizations to avert the looming liquidity crisis that threatens so much of our sector. The federal government must ensure that charities and nonprofits remain fully eligible for any further federal initiatives aimed at helping employers to retain staff. The restrictions that limit charities and foundations to only providing funds to qualified donees should be temporarily lifted. The letter also recommends the creation of an ad hoc table so that the prime minister and senior officials can share advice and ideas with a cross-section of charity and nonprofit leaders from across Canada."
Today, MAC also co-signed a letter sent from the National Council of Canadian Muslims (NCCM) to the government focusing on the challenges currently facing Muslim charities and organizations. The letter asked the government to "match donations raised by charitable organizations for the next three months, improve the charitable donation tax credit to encourage donors to continue support, extend a 0% interest credit line for charitable organizations (capped at a $1 million loan) to help cover operational costs to be paid back over a three-year period and to ask that the government should set out a specific wage subsidy plan for charities. We ask that the government subsidize salaries for charities up to the maximum EI benefits. This will allow charitable organizations to ensure that the front-line staff most critical to delivering services to Canadians can continue to deliver those services, rather than be forced to lay them off".
"We call on the government to support charities and not-for-profit organizations including Muslim charities through the solution packages offered and other urgent measures to provide relief to the thousands of employees and parents directly affected during this crisis".
-30-
Attachment
Backgrounder
MAC is one of the largest Muslim organizations in Canada. MAC believes that the personal development of every individual is the key to real and fruitful involvement in the community. It brings a balanced, constructive and engaged understanding of Islam that aims to inspire Muslims in Canada.
Muslim Association of Canada | www.macnet.ca | (905) 822-2626