URGENT UPDATE: MAC SHUTS DOWN ALL PHYSICAL WORKPLACES & PUBLIC SPACES ACROSS THE COUNTRY AND TRANSFERRING TO ONLINE PROGRAMMING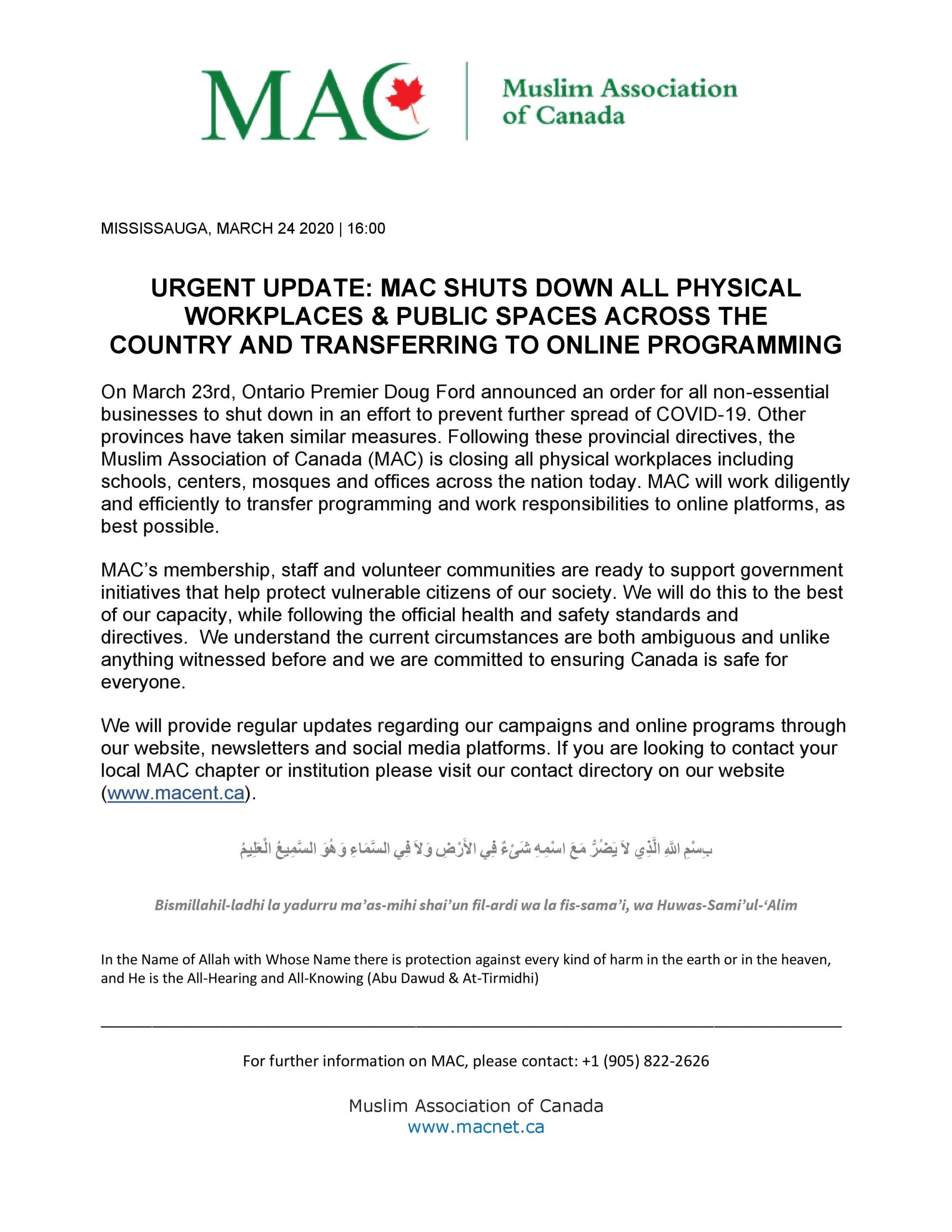 MISSISSAUGA, MARCH 24 2020 | 16:00
URGENT UPDATE: MAC SHUTS DOWN ALL PHYSICAL WORKPLACES & PUBLIC SPACES ACROSS THE COUNTRY AND TRANSFERRING TO ONLINE PROGRAMMING
On March 23rd, Ontario Premier Doug Ford announced an order for all non-essential businesses to shut down in an effort to prevent further spread of COVID-19. Other provinces have taken similar measures. Following these provincial directives, the Muslim Association of Canada (MAC) is closing all physical workplaces including schools, centers, mosques and offices across the nation today. MAC will work diligently and efficiently to transfer programming and work responsibilities to online platforms, as best possible.
MAC's membership, staff and volunteer communities are ready to support government initiatives that help protect vulnerable citizens of our society. We will do this to the best of our capacity, while following the official health and safety standards and directives.  We understand the current circumstances are both ambiguous and unlike anything witnessed before and we are committed to ensuring Canada is safe for everyone.
We will provide regular updates regarding our campaigns and online programs through our website, newsletters and social media platforms. If you are looking to contact your local MAC chapter or institution please visit our contact directory on our website (www.macnet.ca).