First set of seniors graduating from Abraar Secondary School
First set of seniors graduating from Abraar Secondary School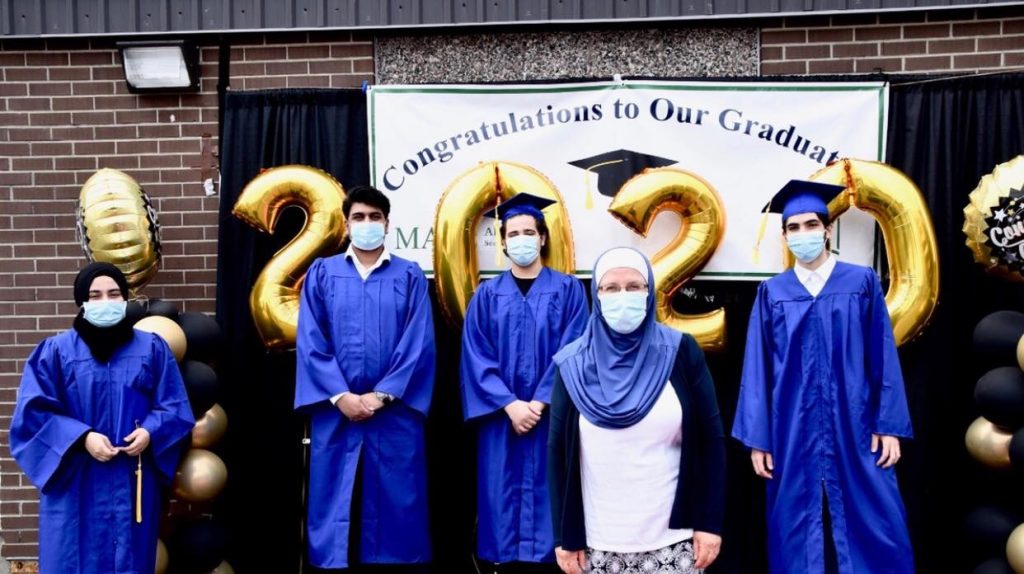 Abraar Secondary celebrates the first ever Grade 12 graduating class of 2020! MAC is proud of all the students' hard work especially through all this year's challenges and changes. We wish all the students the best as they start a new journey and exciting endeavors.
At Abraar Secondary, students have the opportunity to excel academically as they attain sound grounding in Islamic teachings based on the Noble Quran and the Prophetic tradition. This important early grounding in their faith will provide the students with values from which they will draw lessons and use as guiding principles throughout their lives.
Abraar Secondary School, located in the Bayshore area, is the city of Ottawa's leading Islamic school. It is a combined middle school and high school for grades 7 to 12. Abraar secondary has a team of dedicated staff who have a passion for teaching and a particular affection for the Islamic environment in which they teach. With the aim of facilitating an understanding of the Quran and Ahadith, Abraar offers language courses that initiate the students into a long-term study of Arabic, the sacred language of Islam.
Abraar Secondary School offers a French language program that meets the provincial requirements. Students who wish to deepen their knowledge of French have the opportunity to go beyond the requirements and take their language skills to a higher level.
Abraar Secondary School encourages an overall attitude towards healthy living and physical activity for all students. The school's athletic program includes swimming, basketball and indoor soccer. Abraar's swimming program provides lessons that give our students lifelong skills to help them be safe in and around the water. Abraar' swimming program is taught by certified Boys and Girls Club instructors. The swimming program provides a male instructor for the boys and female instructor for the girls to accommodate and respect religious modesty. Abraar school is a member of the National Capital Secondary School Athletic Association and Ottawa Futsal Club.
Students are encouraged to embrace healthy, active living and participate in the school athletic program. Abraar Secondary School offers young students a sound grounding and deep knowledge of Islamic beliefs and practices – while staying fully committed to academic excellence.
All in all, Abraar Secondary School is all about academic excellence delivered in a nurturing, protective Islamic environment that gives the students a unique growing and learning experience. It is simply the best of both worlds. The small class sizes school setting provides students with individual attention and increased opportunities for academic success., highly qualified teachers, and small class sizes. The school's academic program is based on the requirements of the Ontario Ministry of Education for completion of the Ontario Secondary School Diploma (OSSD).
Abraar Secondary School's academic program is supported by a range of co-curricular activities which also promote a favourable learning environment, enhance student motivation and provide opportunities for leadership to prepare students for post-secondary education and equip them with the tools they need to become competitive in their chosen fields.

Visit Abraar Secondary School Website for more information: