Statement by MAC on Statements by Canadian Leaders and School Boards on Recent Protests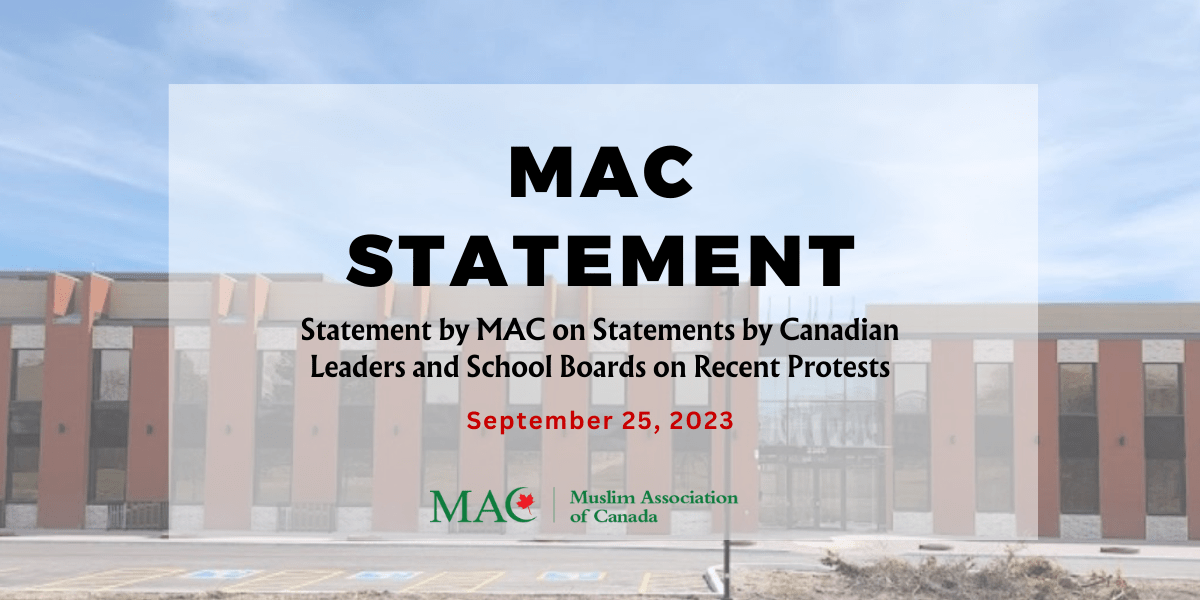 September 25, 2023
The Muslim Association of Canada strongly condemns remarks on recent protests made by certain politicians, including our Prime Minister, as well as statements from school boards, unions, and reports from some media outlets.
By characterizing the peaceful protests of thousands of concerned parents as hateful, Canadian leaders and school boards are setting a dangerous precedent of using their position of influence to unjustly demonize families, and alienate countless students.
On Wednesday September 20th, thousands of Muslims, joined by other faith-based groups, protested to raise their concerns, calling for their rights as parents in relation to their children's education. Their intent was to be heard, not to sow division. Parents should have the absolute right to advocate for the wellbeing of their children.
The statements from Canadian leaders and school boards increase the potential for Muslim children to face increased bullying and harassment in schools, both by educators and peers, a trend that's already distressingly escalating. Civil rights organizations and Muslim organizations across the country have documented numerous validated accounts detailing situations where children have been coerced into activities that contradict their faith, or where parents teaching religious values to their offspring have been unfairly attacked.
We call on politicians and school boards, beginning with Prime Minister Trudeau, to retract their deeply inflammatory and divisive comments and issue an apology to the thousands of Canadian parents hurt by these comments.