MAC Statement on recent reports on Sh. Nashaat Ahmed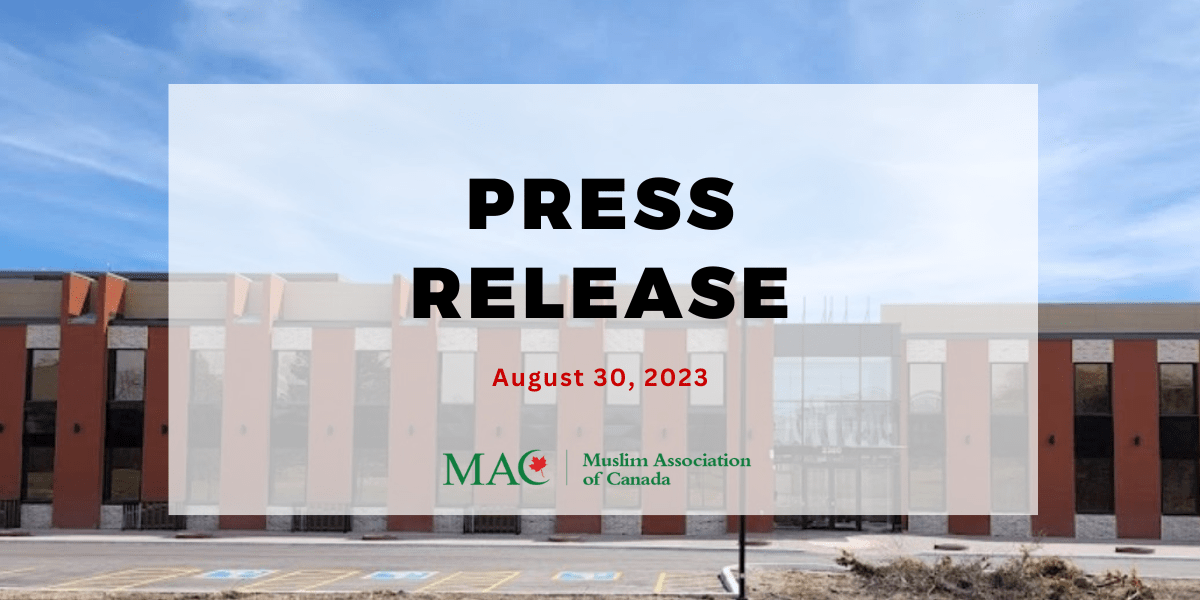 Statement from the Muslim Association of Canada (MAC) regarding recent reports on supplications by Shaikh Nashaat Ahmed
August 30, 2023 | Mississauga
We are aware of a report regarding supplications made by the renowned Islamic scholar, Shaikh Nashaat Ahmed, pertaining to Jews and other groups. Firstly, it's pertinent to mention that MAC does not validate the authenticity of claims made by HonestReporting due to its track record of conveying misleading information about Muslim Scholars.
That said, MAC believes in due diligence and is currently conducting its own thorough review into the matter. Our initial findings indicate that the recordings have been mistranslated, misrepresented, and incorrectly dated.
We wish to state unequivocally that MAC does not endorse or support supplications made against the Jewish people or any other group as a whole. However it is a well established Islamic theological position to invoke the help of God against oppressors.
We are cognizant that in the Middle East, certain scholars, unfortunately, use the term "Jews" interchangeably when discussing Israel, its occupation, and the subsequent persecution of Palestinians and Muslims. Similarly, there are instances where the term "Hindus" is incorrectly used interchangeably with India's persecution of Muslim minorities. Both conflations, though rooted in historical narratives and representations, are inexcusable and require rectification.
As it relates to Shaikh Nashaat Ahmed, he is a globally recognized Muslim scholar, esteemed for his profound insights on fundamental spiritual topics and followed by Muslims both internationally and within Canada.
MAC is actively investigating the matter and it is evident that there is a smear campaign involving deliberate mistranslations and quotes out of context aimed at tarnishing Shaikh Nashaat Ahmed and MAC, underscoring a persistent and harmful pattern of targeting Muslim scholars to undermine religious freedom and perpetuate a cancel culture.
However, MAC acknowledges certain remarks do not align with our core values and policies. In our commitment to a thorough investigation we are seeking clarification from Shaikh Nashaat Ahmed and we have temporarily suspended his participation in this year's Convention until the matter is fully resolved. We look forward to him clarifying his position and speaking in the future.
MAC maintains stringent policies around speakers and speeches delivered in MAC's centres and conferences and ensures that speeches reflect the true message of Islam such as justice, mercy, respect, and dignity. Every speaker is expected to respect and adhere to these standards.
Lastly, MAC believes in the importance of religious freedom. We do not cancel Muslim scholars for articulating Islamic teachings or holding political views, provided these stances do not incite hate or violence. Our goal remains to foster understanding, unity, and respect within and beyond our community.
About MAC
MAC is a Canadian grassroots organisation that provides spiritual, educational, and social services that benefit thousands of Canadians across various communities. It is an apolitical grassroots charity and its work is focused entirely in Canada.
MAC has served in consultation with all levels of government on issues that pertain to policy and legislation to tackle Islamophobia and all forms of hate.
MAC has collaborated with leaders across many organizations, interfaith networks and research institutes to fight Islamophobia, Anti-Semitism and racism.
MAC has worked on critical projects with both the Federal and Provincial governments to tackle the growing hate in our country. MAC welcomes further opportunities to partner with governments at all levels.
MAC has repeatedly condemned all forms of Anti-Semitism and hate.