Montreal mosque recently targeted hosts commemoration for Quebec City mosque attack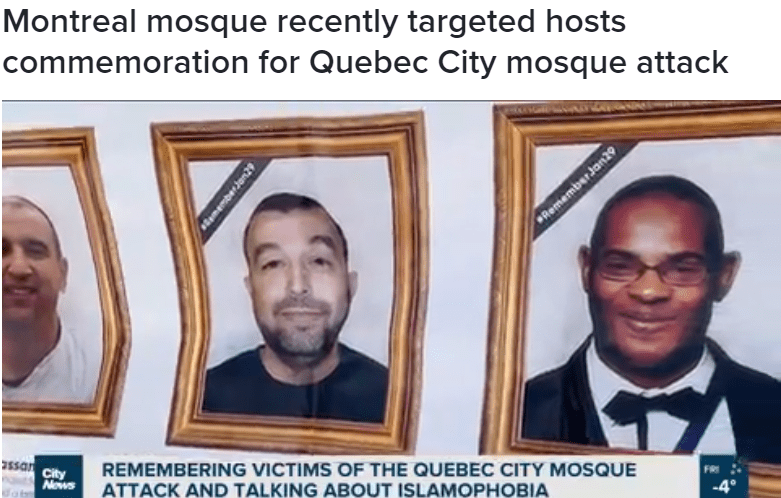 January 27, 2023 |
Montreal's Muslim community is starting their commemorations for the sixth anniversary of the Quebec City mosque attack, when a gunman shot at worshippers during evening prayers on January 29, 2017, leaving six dead.
The MAC Islamic Center of Verdun hosted a gathering Friday, almost one month after the building and two worshippers were targeted by a man seemingly trying to force his way inside.
Samer Elniz, communications co-ordinator for the Muslim Association of Canada in Quebec, said the incident put fear into Muslims in Verdun, as it was reminiscent of how the Quebec City mosque was targeted before the attack.
"We remember 29 of January and we remember the act of Islamophobia that happened here one month ago," he said.
Video surveillance posted to social media Dec. 30 showed two male worshippers heading into the building on Verdun street. One seems to have their phone out, possibly filming the incident.
Suddenly, the video shows a man then running across the street after them, cutting in front of a car. He then seemingly tried to force his way into the door of the building, as held at the worshippers while they held the door shut.
Before leaving, he reportedly made threats to the worshippers, insulting their faith. A police investigation is ongoing.
"It's still not settled, It's always fear and worry. And we're here so we don't forget and it doesn't happen again," said Ahmed Toubal, worshipper at the Islamic Center of Verdun.
Read the full article: Montreal mosque recently targeted hosts commemoration for Quebec City mosque attack (citynews.ca)
– By Alissa Rubertucci, City News Montreal