Christian and Muslim faith groups share Edmonton's McDougall United Church Good Friday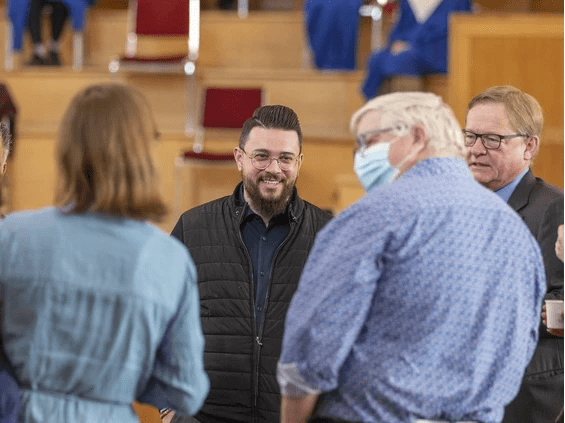 April 16, 2022 | Edmonton – Edmontonians of Christian and Muslim faith have been sharing space at McDougall United Church since the beginning of April and for the first time, both faith groups held services simultaneously Friday afternoon.
Yasin Cetin, outreach and engagement advisor with the Muslim Association of Canada (MAC) Edmonton Chapter, said the church approached them in February about "revisioning" their community space as a multi-faith community hub. The MAC rented space at the downtown church for Ramadan, which runs through the month of April.
"It's actually really interesting because this Ramadan has been an opportunity for us to sort of experiment, work out the kinks, see what spaces work, what spaces don't work and we're in talks with McDougall right now about what a long-term partnership looks like," said Cetin.
Cetin said he sees dozens of new faces every day and estimates a few hundred Muslim people have come through the doors since services began at the church at the beginning of the month.
"I think it's especially special for us in the Muslim community recognizing that we've been in the Prairies on Treaty Six for over 150 years to share space with a church that was built in 1911 that's been here for just as long, I think shows the camaraderie, the pluralism, the ability to connect over faith and foster a sense of community in a space that's been home to many faiths for a long time," said Cetin.
To read the full article, click here.
By Kellen Taniguchi, Edmonton Journal