Justin Trudeau and federal leaders unite to condemn attack on Muslim family in London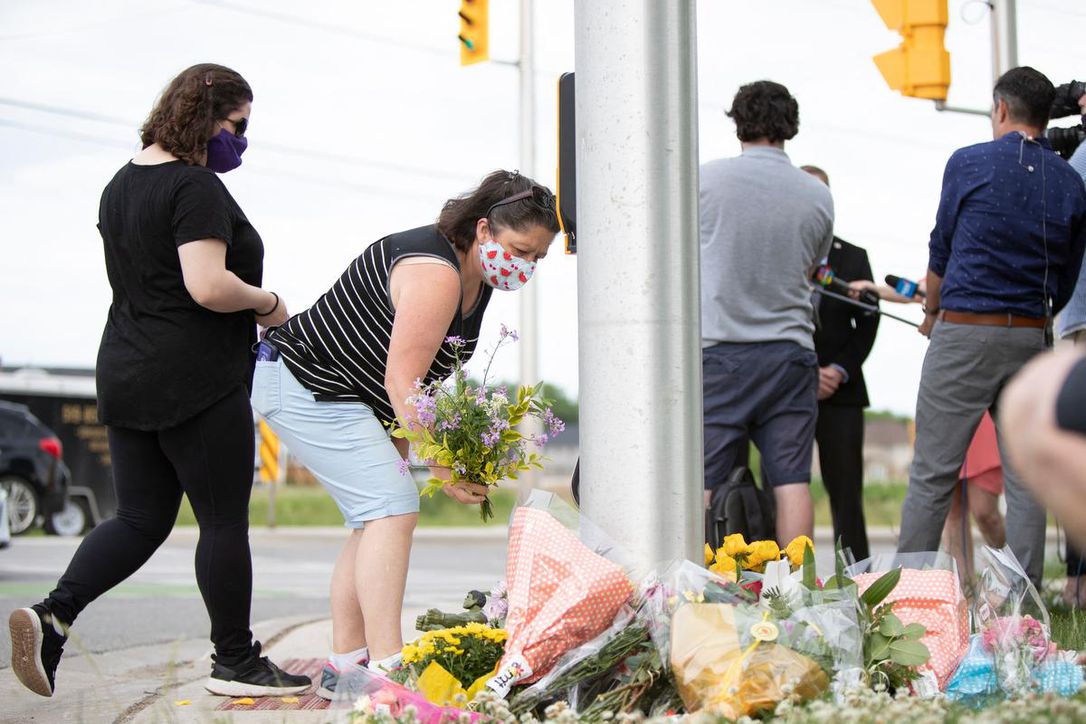 Prime Minister Justin Trudeau and other political leaders denounced a deadly attack against a Muslim family in London, Ont., as an act of terrorism and set aside differences Tuesday to stand united at a vigil of grief to honour the victims of a crime that shocked the country.
"Their lives were taken in a brutal, cowardly and brazen act of violence," Trudeau said in the House of Commons on Tuesday morning. "This killing was no accident. This was a terrorist attack motivated by hatred in the heart of one of our communities."
Conservative Leader Erin O'Toole and NDP Leader Jagmeet Singh followed suit in referring to the devastating incident as an act of terror, as did Premier Doug Ford, who labelled the tragedy as "nothing short of a terrorist attack."
O'Toole also expressed concern that isolation brought on by the COVID-19 pandemic has caused Canadians to become "more separated from one another."
"Police services have warned of a dramatic increase in hate crime, violent extremism, Islamophobia and other signs of intolerance from one part of our country to another," he said.
Nadia Hasan, the chief operating officer of the National Council of Canadian Muslims, said it was important to see the word "terrorism" appear in Tuesday's political statements, given that the term is typically avoided by elected officials in the wake of violent incidents.
"It's really important to not just the Canadian Muslim community, but for Canadians more broadly, that this crime be called what it is," Hasan said. "And for us to get that right, right now, is the least we can do."
On Sunday, five members of a London-area family were hit by a truck while they were out for an evening walk. London police say they believe the family was intentionally targeted by the truck's driver because of their faith.
Police have not released the names of the victims, but a statement released by the family late Monday identified them as Salman Afzaal, 46, his 44-year-old wife Madiha Salman, their 15-year-old daughter Yumna Salman and Afzaal's 74-year-old mother.
The couple's nine-year-old son Fayez was seriously injured but is expected to survive.
A 20-year old London man was arrested seven kilometres from the scene of the crash. Nathaniel Veltman is charged with four counts of first-degree murder and one count of attempted murder. He is expected to appear in court on Thursday.
A witness who saw the driver told the Star that he appeared to be wearing body armour and a helmet.
Rania Lawendy, an executive council member of the Muslim Association of Canada, said it is incumbent upon Ottawa to consult with Muslim Canadians on policies and practices concerning this country's "security, education and social service infrastructure."
Lawendy, whose family knew Yumna Salman, said political and social divisions in Canada have allowed Islamophobia to fester and grow across the country.
"All of these things didn't happen in a vacuum, right? Anti-Muslim hate has thrived from polarization coming from the leadership of the country in their discourse. And politicians need to take responsibility for what they're saying and what this has done to our country."
After MPs observed a moment of silence for the victims in the House of Commons on Tuesday, Trudeau said hate is often fuelled by small actions that turn into "ugly" trends.
"The jokes that are not funny. The casual racism. The insinuations that are only meant to diminish. The toxic rhetoric. The disinformation and the extremism online. The polarization we too often see in our public discourse and in our politics."
At a news conference later in the day, Trudeau was asked by the Star to specify who is responsible for that political polarization.
"I think all politicians need to be aware, not just of the words they say, but the intent that underlies what they say. Are politicians working to bring people together or to divide them?" he said.
"I don't want to start looking to the past and pointing out too much, 'Well, this party did this and that party did that.' I think today, we need to look forward."
However, the prime minister also refused to criticize Quebec's secularism law, which bans the wearing of visibly religious garb and symbols when offering public services, saying he disagrees with critics who claim it fosters hate.
"When it comes to secularism, it's important that we have institutions and a country is a secular one which does not judge on the basis of one religion or various religions, that doesn't judge our citizens on this basis," he said in French. "It's also important to be able to protect the fundamental rights of all."
Trudeau said while he personally disagrees with the law known as Bill 21, he believes a province has a right to advance a bill just as Quebecers have the right to challenge it in court, and his government is "watching carefully" as that court challenge proceeds.
"Bill 21 is something we've been challenging since the day the bill became law," said Hasan, who believes the law was crafted within a "crescendo of Islamophobia."
"I think it's something that we're going to continue to challenge and we're not going to stop until all Quebecers … have the right to work in the profession of their choice."
Fareed Khan is the founder of Canadians United Against Hate, which is organizing an Ottawa vigil for the London victims. He said the Trudeau government has been "an abysmal failure" on standing up against Bill 21 on behalf of Muslims and other minorities, and graded its efforts in fighting the rise in hatred an "F."
"It is the responsibility of the Canadian government to uphold the rights of all Canadians regardless of where they live in this country," Khan said.
Trudeau said Quebecers may now have more to reflect on after a pandemic that's seen all Canadians needing to wear masks to receive public services, and during which the country has seen a rise in intolerance and hatred.
Delivering his remarks in the House on Tuesday, Singh said that while he loves the country his parents decided to call home, its harsh realities cannot be ignored.
"Our Canada is a place where 215 little kids were found dead in unmarked graves. Our Canada is a place where you can't walk down the streets if you wear a hijab because you will be killed," he said.
"The reality is, our Canada is a place of racism, of violence, of genocide of Indigenous people. And our Canada is a place where Muslims are not safe."
The prime minister has committed to continuing to fund initiatives like the Security Infrastructure Program, which provides better security systems around mosques and other places of worship, as well as tackling hate on and off the internet and taking further action to dismantle far right hate groups like the Proud Boys.
Ford has condemned Sunday's violence, conveying his condolences to Muslim Canadians in a video statement.
"We're a community that sticks together and will be united behind the Muslim community … we stand behind you, we support you, we'll stand shoulder-to-shoulder because this can never, ever happen again," he said.
On Tuesday, the premier requested an exemption to COVID-19 gathering rules in London and approved a regulation change at Queen's Park for an outdoor gathering of more than 10 people to allow a planned vigil to take place.
All five federal party leaders attended the vigil, which was held at the family's London-area mosque.