'We will not let hate win.' Thousands attend vigil at London mosque to honour Muslim family killed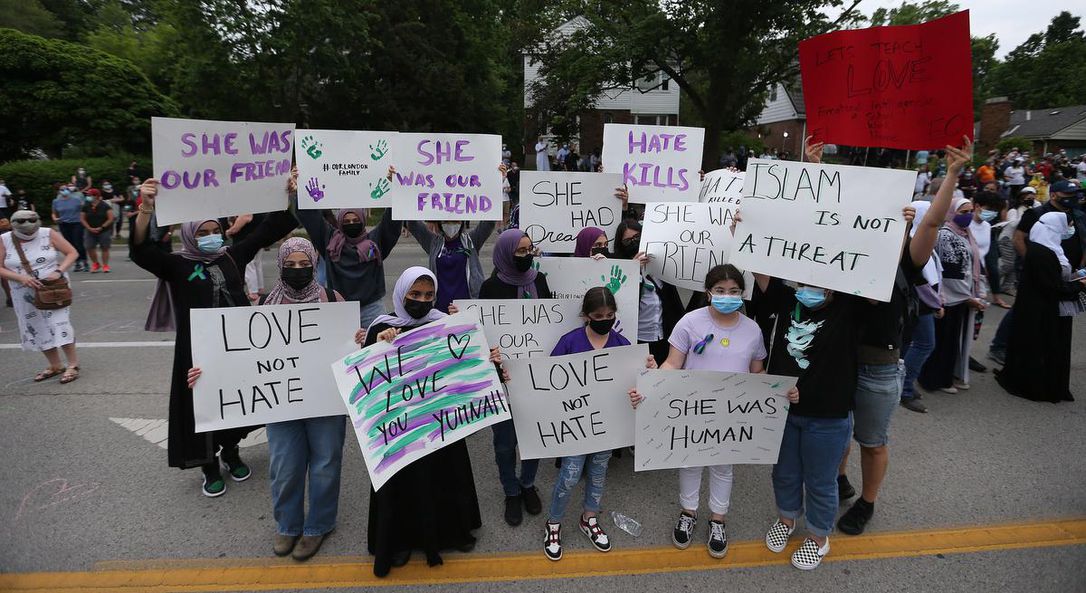 Thousands gathered at a mosque in London, Ont. on Tuesday night to remember the family killed in what police called a hate-motivated act.
The vigil started just before 7:30 p.m. in the parking lot of the London Muslim Mosque and was broadcast on Facebook.
At around 9 p.m. Sunday, a man in a black pickup truck mounted the curb at a London intersection, striking a family of five and speeding off.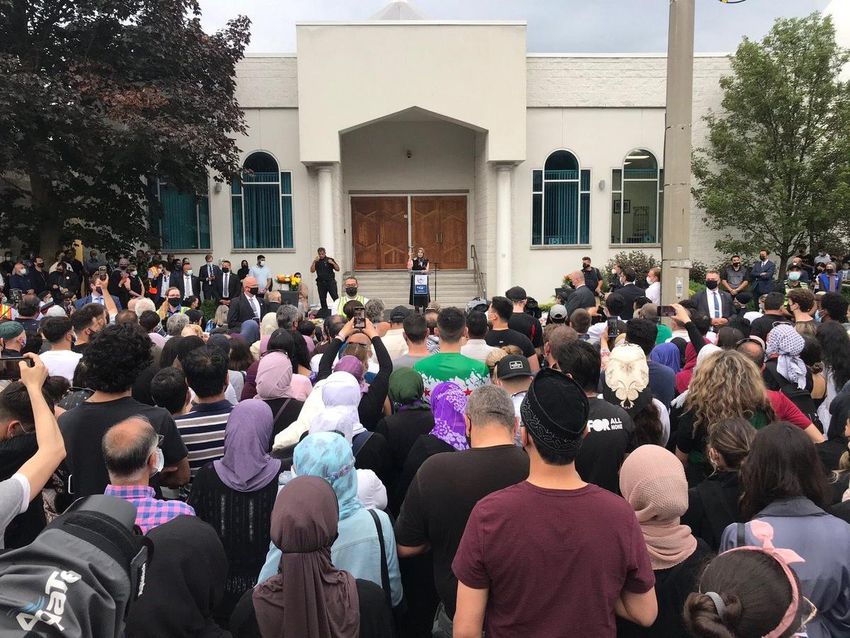 Four family members were killed, including a 46-year-old man, his 44-year-old wife, a 15-year-old girl, and her 74-year-old grandmother.
A nine-year-old boy is in the hospital with serious injuries, but is expected to survive.
On Monday, 20-year-old Nathaniel Veltman was charged with four charges of first-degree murder and one count of attempted murder.
Among a host of speakers during the two-hour vigil, which included a moment of silence and prayer, were Prime Minister Justin Trudeau, Ontario Premier Doug Ford and several members of the Muslim community.
This is what some of the speakers had to say:
"I've walked that trail that our London family walked on Sunday, and never got to finish. Just like many of my friends and family have expressed to each other, and on social media. It's not a matter that it could have been me. It was one of us."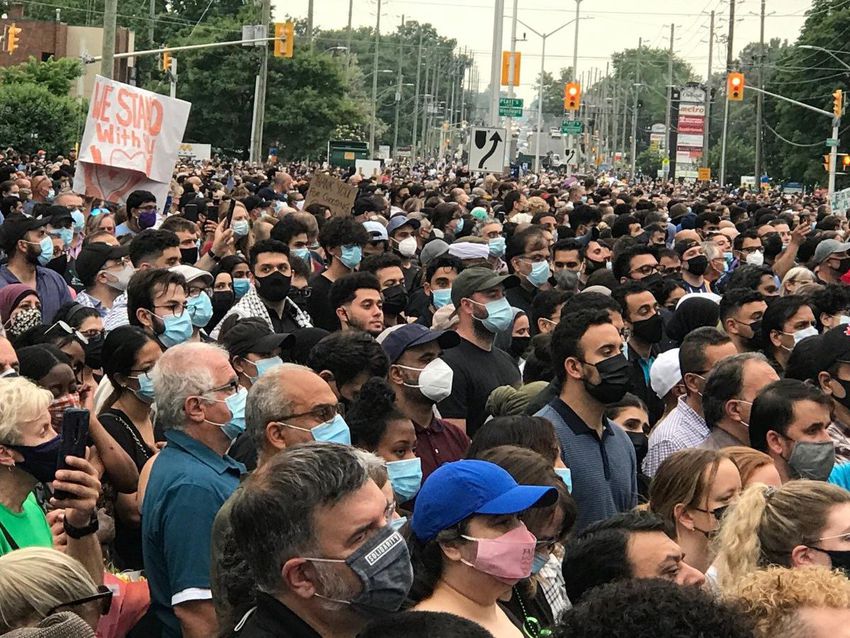 — Nusaiba Al-Azem, the second vice-chair of the London Muslim Mosque
"I see in all of you today, a reflection of God's mercy, love is greater than hate and hate can be overcome. And for those of you who still have hate in your hearts, we want more for you, we want better for you. We want your hand, your heart, to be unconstructed so that it can expand more and more like the hearts of the people here with love, until you come to know the source of all love."
— Dr. Ingrid Mattson, London and Windsor Community Chair in Islamic Studies at Western University
"We are in a war against hate and that war requires nonpartisanship. It requires co-operation, it requires united leadership."
— Nawaz Tahir, the chair of Hikma, a local anti-Islamophobia advocacy organization
"As Canadians we make a pact with one another that we will look out for each other, take care of each other, respect each other.
"Well, for the Muslim Canadian community that pact has been broken. Too many times. It was broken last fall in Etobicoke, in Quebec City, in far too many places across the country. Islamophobia is real. Racism is real."
— Justin Trudeau, the Prime Minister of Canada
"The family was entitled to the same security, the same freedom from fear, and the same freedom to worship as every Canadian, and we have to commit ourselves to making sure it is a reality for all Canadians."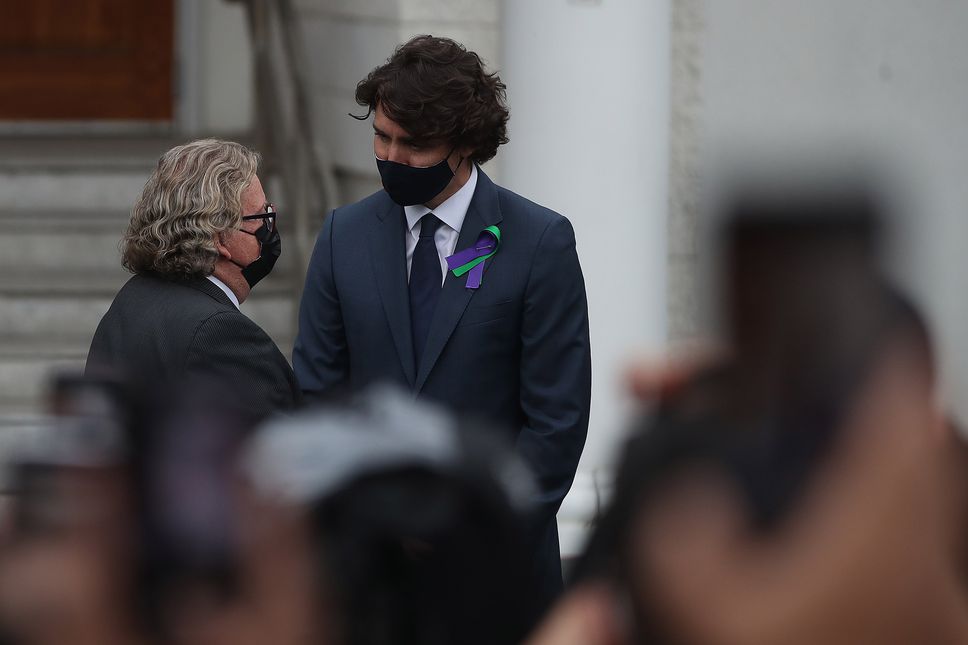 — Erin O'Toole, leader of the federal Conservative party
"This act of terror was committed with the purpose of driving fear into the hearts of the Muslim community so I want to say to my sisters that wear a hijab, to my brothers that wrap their head — we will not cower in fear. We will wear a turban or hijab, with pride because we are proud of who we are.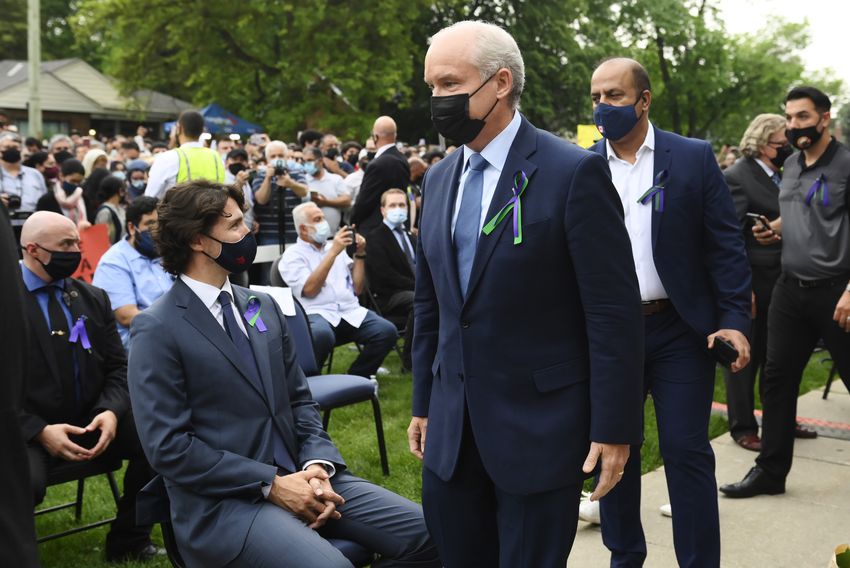 "We will not let hate win."
— Jagmeet Singh, leader of the federal NDP party
"Where there is pain, we will replace it with action. We will replace it with action to ensure that everyone can have safety in their identity that they can walk out of the house as who they are, with no fear and without any concern. And where there is division, we will ensure that there is unity.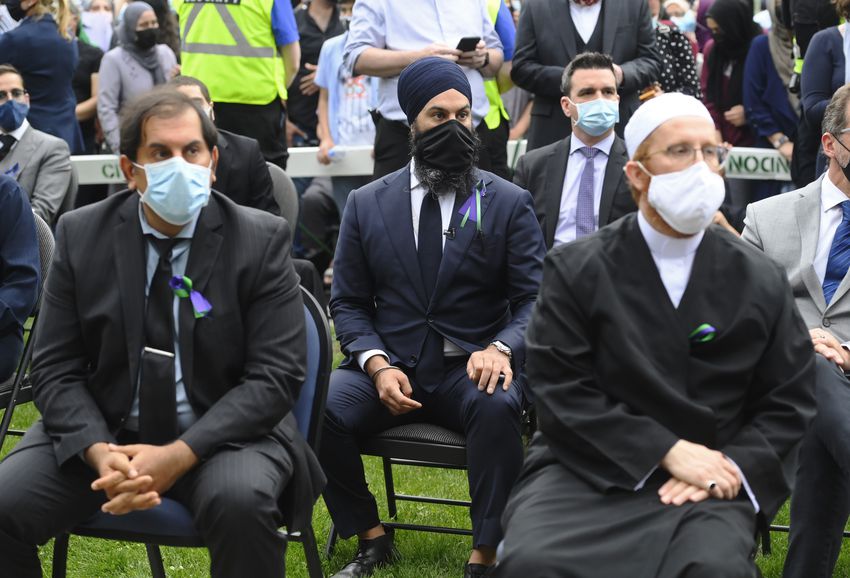 "At the end of the day, what we can do to remember those who have been lost, is to say that hate will not win."
— Annamie Paul, leader of the federal Green party
"We will never be satisfied as long as white supremacist groups are allowed to walk as they have walked in London with impunity, and are not dismantled. But my anger, and the anger of thousands of Canadian Muslims, will turn into positive action, an action of love."
— Mustafa Farooq, CEO of the National Council of Canadian Muslims
"Words are no longer enough.
"We hold our elected officials responsible for creating a society where we don't have to explain to our children why they're being told to go back home. And why their hijabs are being ripped from their heads."
— Nabil Sultan, chairman of the Muslim Association of Canada
"Today we stand shoulder to shoulder with our Muslim community in their time of mourning. We stand with them in the face of the unbelievable pain and suffering, they're encountering right now.
"I want every single Muslim person, every Muslim family, to know that we're with them, will always have your backs."
— Doug Ford, the Premier of Ontario
"Too often from us politicians, we hear words. Now is the time for action for action.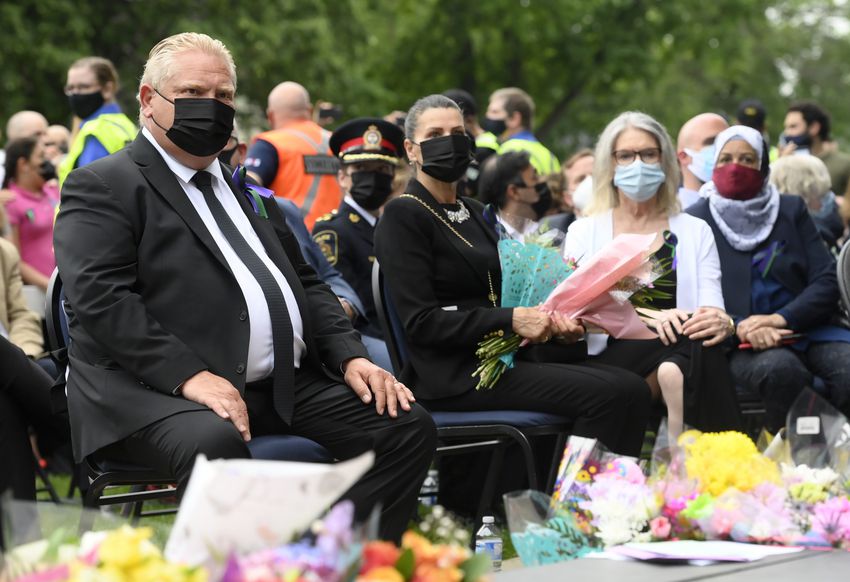 "We must eradicate at a systemic level the violent organized groups, spreading this hate, spreading Islamophobia, right here in our province. We must and we can."
— Andrea Horwath, leader of the Ontario NDP party
"I cannot accept that (the nine-year-old boy) will have to go through the rest of his life enduring the deep emotional trauma and scars because of this horrible, horrible act of terror, that should never happen in Ontario and should never, ever again happen in Canada."
— Steven Del Duca, leader of the Ontario Liberal party
"This was a terrorist. We can never shy away from calling it what it is — terrorism.
"White supremacy and racism, living in London, rent free, for too long and it's time to evict them."
— Mohamed Salih, London city councillor (Ward 3)
"Look over your shoulders, and see that you're surrounded by love from your fellow Londoners and love from fellow human beings. This love is unwavering and unconditional, and it is my promise it will always be with you."
— Ed Holder, the mayor of London
"I want to speak to those who are feeling unsafe or who are in fear, as we know that there will be no tolerance in the community for individuals who are motivated by hate, that target others with violence (and) terror.
We will do our part to bring those individuals to justice."
— Steve Williams, the London Police Chief
Vigils were also held at the same time in Ottawa and Richmond Hill.
In Ottawa, the Canadian Council of Muslim Women's Ottawa Chapter planned a vigil at the Human Rights Monument at Lisgar and Elgin Streets and in Richmond Hill, the Islamic Society of York Region planned a vigil at 1380 Stouffville Rd.
The Ontario premier's office announced during the London vigil that flags at provincial buildings will fly half mast until the funeral.