MARCH 13 MAC Community Advisory on COVID19 Virus Outbreak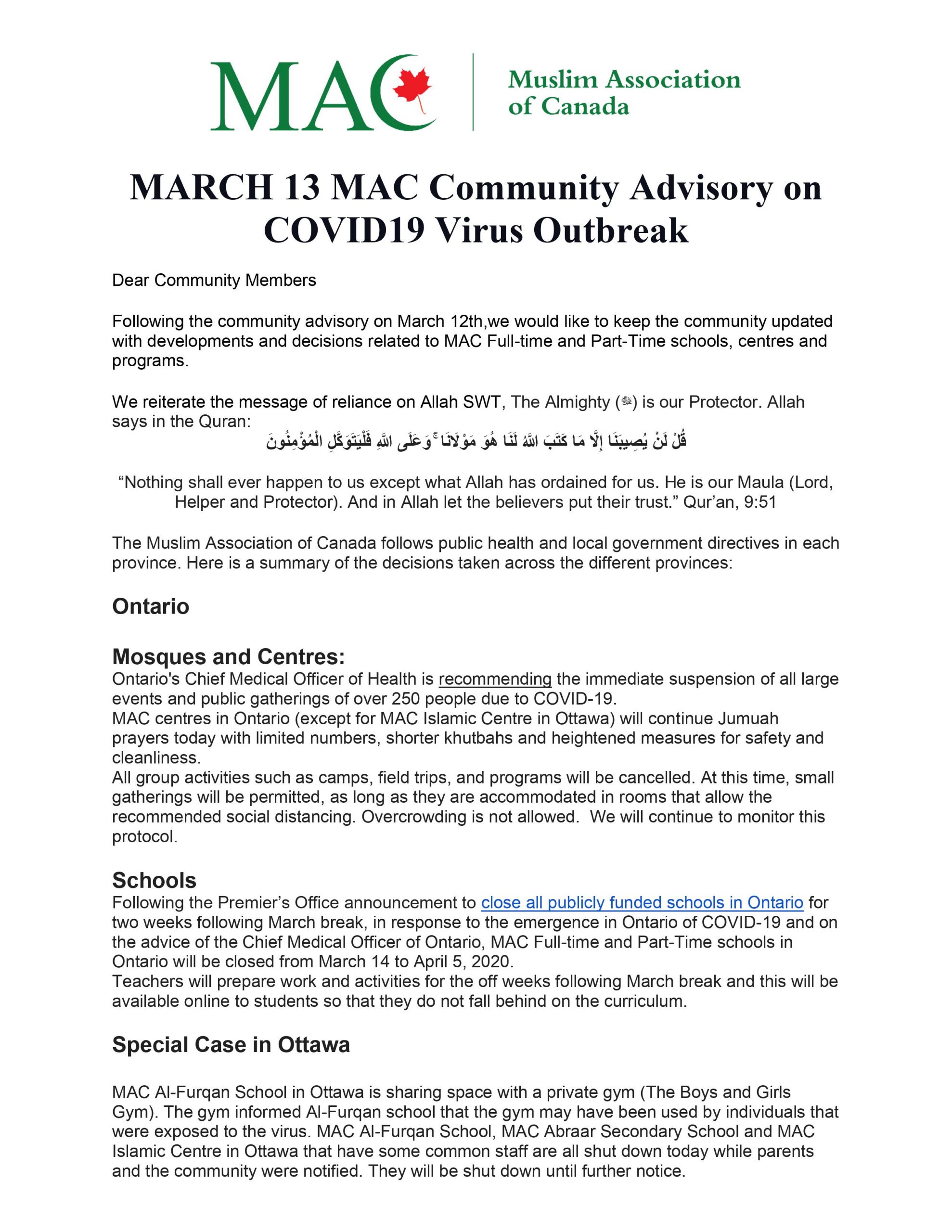 MARCH 13 MAC Community Advisory on
COVID19 Virus Outbreak
Dear Community Members
Following the community advisory on March 13th,we would like to keep the community updated with developments and decisions related to MAC Full-time and Part-Time schools, centres and programs.
We reiterate the message of reliance on Allah SWT, The Almighty (ﷻ) is our Protector. Allah says in the Quran:
 قُلْ لَنْ يُصِيبَنَا إِلَّا مَا كَتَبَ اللَّهُ لَنَا هُوَ مَوْلَانَا ۚ وَعَلَى اللَّهِ فَلْيَتَوَكَّلِ الْمُؤْمِنُونَ 
"Nothing shall ever happen to us except what Allah has ordained for us. He is our Maula (Lord, Helper and Protector). And in Allah let the believers put their trust." Qur'an, 9:51
The Muslim Association of Canada follows public health and local government directives in each province. Here is a summary of the decisions taken across the different provinces:
Ontario
Mosques and Centres:
Ontario's Chief Medical Officer of Health is recommending the immediate suspension of all large events and public gatherings of over 250 people due to COVID-19.
MAC centres in Ontario (except for MAC Islamic Centre in Ottawa) will continue Jumuah prayers today with limited numbers, shorter khutbahs and heightened measures for safety and cleanliness.
All group activities such as camps, field trips, and programs will be cancelled. At this time, small gatherings will be permitted, as long as they are accommodated in rooms that allow the recommended social distancing. Overcrowding is not allowed.  We will continue to monitor this protocol.
 Schools
Following the Premier's Office announcement to close all publicly funded schools in Ontario for two weeks following March break, in response to the emergence in Ontario of COVID-19 and on the advice of the Chief Medical Officer of Ontario, MAC Full-time and Part-Time schools in Ontario will be closed from March 14 to April 5, 2020.
Teachers will prepare work and activities for the off weeks following March break and this will be available online to students so that they do not fall behind on the curriculum.
Special Case in Ottawa
 MAC Al-Furqan School in Ottawa is sharing space with a private gym (The Boys and Girls Gym). The gym informed Al-Furqan school that the gym may have been used by individuals that were exposed to the virus. MAC Al-Furqan School, MAC Abraar Secondary School and MAC Islamic Centre in Ottawa that have some common staff are all shut down today while parents and the community were notified. They will be shut down until further notice.
Quebec
Following the Quebec government's directives to limit gatherings, "The government of Quebec prohibits, as of March 12, 2020 and for a period of 30 days, all indoor gatherings of more than 250 people".  Our centres and mosques will continue with Friday prayers today while controlling numbers and flow of congregants to meet the directives. Instructions and guidelines were sent
to the community and additional measures for safety and cleanliness were taken. All non-essential activities and programs are cancelled.
 Alberta
Yesterday, the Chief Medical Officer, indicated the following: "Effective immediately, we are asking all large gatherings or international events in the province to be cancelled and advising Albertans against travel outside of the country. By "mass gathering", we mean any mass gatherings of more than 250 people. This includes large sporting events, conferences and community events. It does not extend to places of worship, grocery stores, airports or shopping centres. Any event that has more than 50 attendees and expects to have international participants, or involves critical infrastructure staff, seniors, or other high-risk populations should also be cancelled."
Our schools and centres are continuing with the main programmes while following the above directives. All additional excursions, activities and non-essential programs are cancelled.
 All Other Provinces
All MAC schools and centres will continue with the main programmes with limited numbers and heightened measures of safety and cleanliness. All additional activities and non-essential programs are cancelled.
 We will continue to monitor the updates and public health directives in the different provinces and will adjust our programs accordingly and promptly. We will continue to update our community members regularly. Please stay tuned.
We encourage our community members to exercise an additional level of precaution and to care for the most vulnerable. We advise to continue doing the following:
 Recommended Actions for All Community Members:
Wash hands often with soap and warm water for at least 20 seconds, or use hand sanitizer, especially after coughing or sneezing.
Cough and sneeze into arm or tissue.
Stay home when sick, this includes students from school and community members from the mosque – cold and flu-like symptoms (even if mild)
Do not touch your face and mouth.
Clean and disinfect surfaces that are used often and shared by others.
Do not share eating or drinking utensils.
Refrain from shaking hands, hugging and kissing
Make wudu at home before coming to centers
Pray Sunnah at home before coming
Bring clean and sanitized prayer mat to pray on, if visiting the mosque
Recommendations for Community Members who have travelled:
It is particularly important for the community members who have travelled back to Canada recently from specific regions of the world as highlighted by Municipal Public Health Officials not to come to the mosque, centre or institution if they have:
In these instances, they should self-isolate – that is to stay at home, not go out, and have no contact with the public – and visit the municipal public health authorities' online page for further action.
For more information regarding COVID-19, visit the following links:
Canada Public Health Guidance for Schools
Government of Canada COVID-19 Outbreak Update
We continue to pray for the health and well-being of our communities as we work collectively and proactively to keep each other safe and healthy.