Introducing the MAC National Ramadan Program: In the Shade of the Quran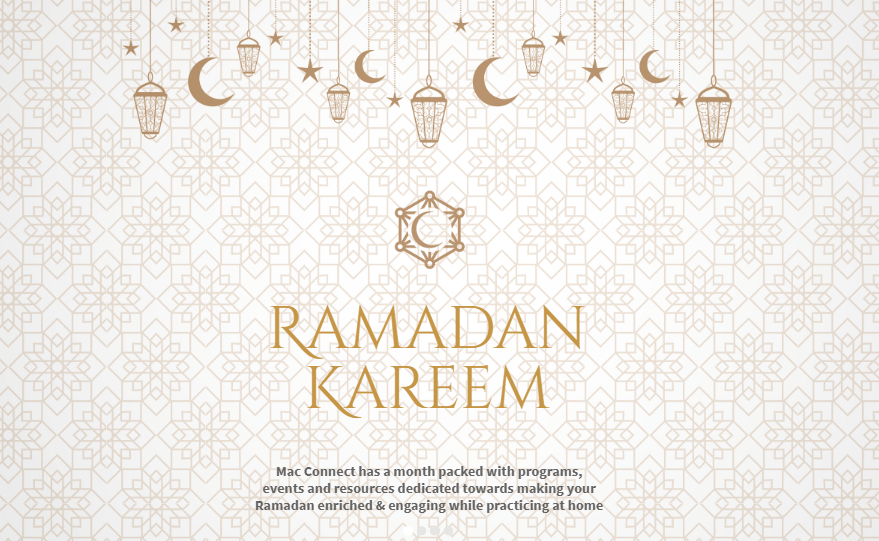 MAC National Ramadan Program: In the Shade of the Quran
Ramadan 1441/2020
This Ramadan, let us, as a community,  focus on the source of truth and guidance – the Qur'an.  The Muslim Association of Canada (MAC) invites you to join us as we provide holistic programming for the entire family.  We are excited to share live programs coast to coast across the country and also through your local cities that will inspire you spiritually, intrigue you intellectually and connect you socially. Beginning from suhoor, we have created a set of virtual programs for children, youth, sisters, and whole family experiences which also include competitions, and community giving initiatives for vulnerable members of our community. 
Whether it's a virtual iftar with members of your local community, family story-time, a small online halaqah group, our youth talk show, or appreciating COVID19 front-line workers, MAC is committed to bringing a Ramadan experience for Canadian Muslims that will nurture the spirit of connection through the Quran amidst this pandemic.  We are also pleased to offer programming in both English and French. 
Our Ramadan program is easily accessible on MAC Connect Hub, where you can find four unique categories of programming, including:
MAC Connect Hub also features a comprehensive Ramadan events calendar for your convenience, our Expressions Corner community blog, and a repository of other resources at your fingertips.
MAC wishes our communities across Canada a blessed Month of Ramadan.