Hope & Prayer in the 6ix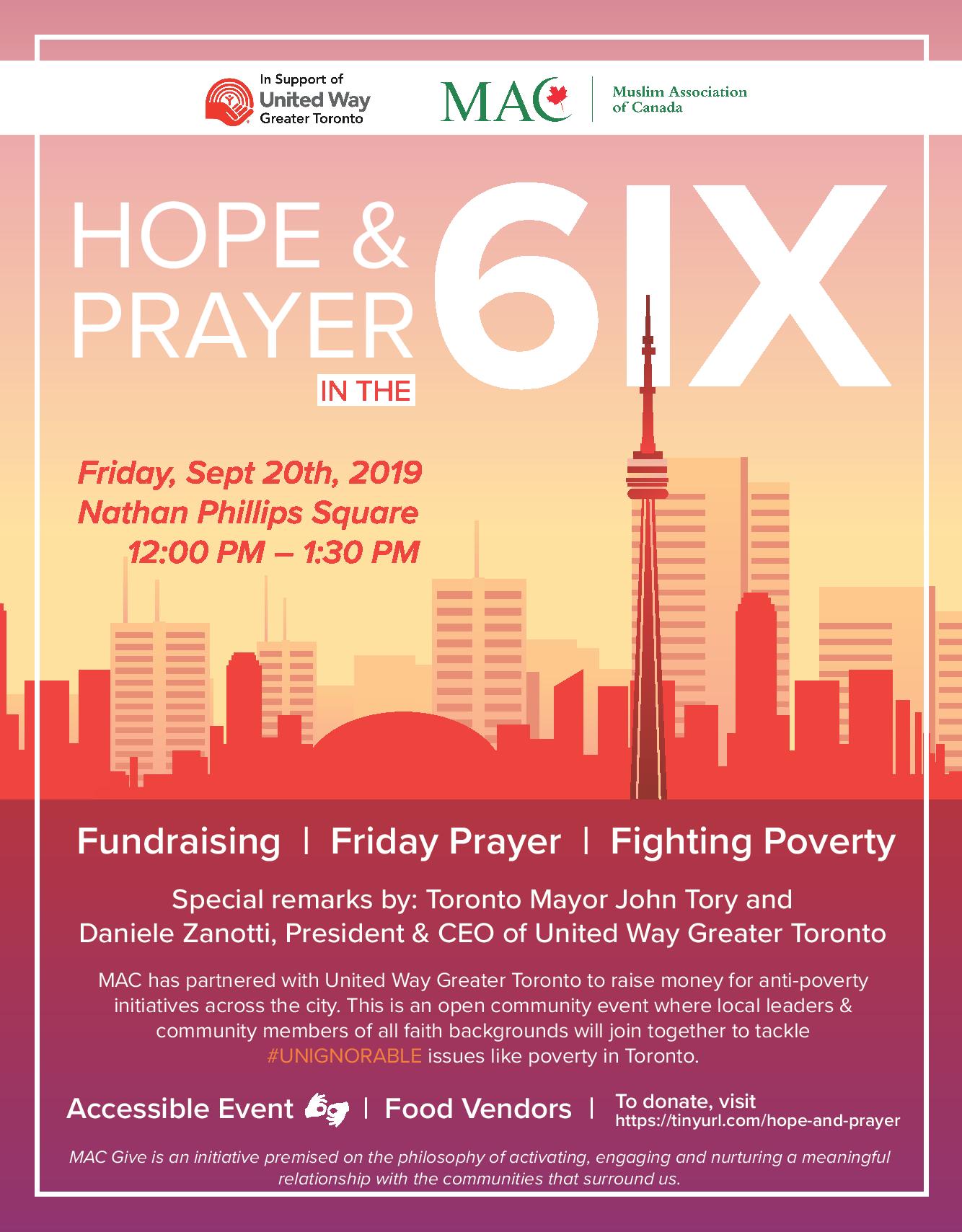 On Friday, September 20 the Muslim Association of Canada hosted a fundraising event at Nathan Phillips Square in Toronto in the form of an outdoor Jummah (Friday) congregational prayer. For the last 22 years, the Muslim Association of Canada has worked to serve communities across Canada to promote constructive engagement and the responsibility that we each have to serve all of humanity. It is core to our beliefs that it is our responsibility to care and to serve others and that starts with our neighbours and our country.
The Muslim Association of Canada is honoured and proud to lead this special initiative with the City, the United Way and our wonderful community partners and relief organizations. We also especially like to recognize the support and contribution of Islamic Relief Canada, Human Concern International, The Islamic Society of North America (ISNA), and the Muslim Welfare Centre for their generous support.
Respected elders and leaders of various faith groups joined us to mark the special occasion as all faith scriptures preach a core value of serving humanity. In the Qur'an, Chapter 2, verse 277 the meaning of the verse is: Indeed, those who believe and do righteous deeds and establish prayer and give charity will have their reward with their Lord, and there will be nothing to fear, nor will they grieve. Islam teaches us that our shared universal values are foundational to our faith most and the most important of these values are human dignity, justice, freedom of belief, and cooperation in the service of others.
For this reason, we have chosen to partner with the United Way and we have raised $100,000 to serve Canadians living in poverty and those who are homeless, where United Way has been a leader in this deep and meaningful work.  
Today represents this vision and is the start of a beautiful tradition.
We want to thank the Honourable Mayor John Tory for supporting this blessed gathering. We also welcome the Right Honourable MP Ahmed Hussen for his dedication to our country. You have both been strong supporters of the Muslim community and your work in the government and outside agencies has made our city and country a better place.
We also want to recognize Mr. Daniele Zanotti – the CEO of United Way Greater Toronto. The principles by which you have led the United Way are ones that resonate with us at MAC and it is our collective duty to connect, care, and invest in our communities. We can't fundraise ourselves out of problems. The change starts outside of our offices. People solve problems. Sometimes money helps, but in the end, it's people. We are proud to partner with the United Way and we want to recognize the work this organization does to alleviate inequalities in our city and communities.
We also honour two special guests: Mr. Mohammed Hashim, a board member of the UnitedWay, for helping open doors, thinking creatively and conceiving this event that has come into fruition today. And one of the Pioneers of the Toronto Muslim community, Sheikh Abdullah Idris, who led the Friday prayer sermon.
Hope is that intrinsic knowing inside of us that drives us to see a future that holds opportunities. Thank you to everyone who joined us and donated to fighting poverty and homelessness, we are committed to continuing to build Toronto as a vibrant and thriving city for every citizen. Let us continue to hold this commitment together.