A Reminder to Have Faith During These Difficult Times in the Middle East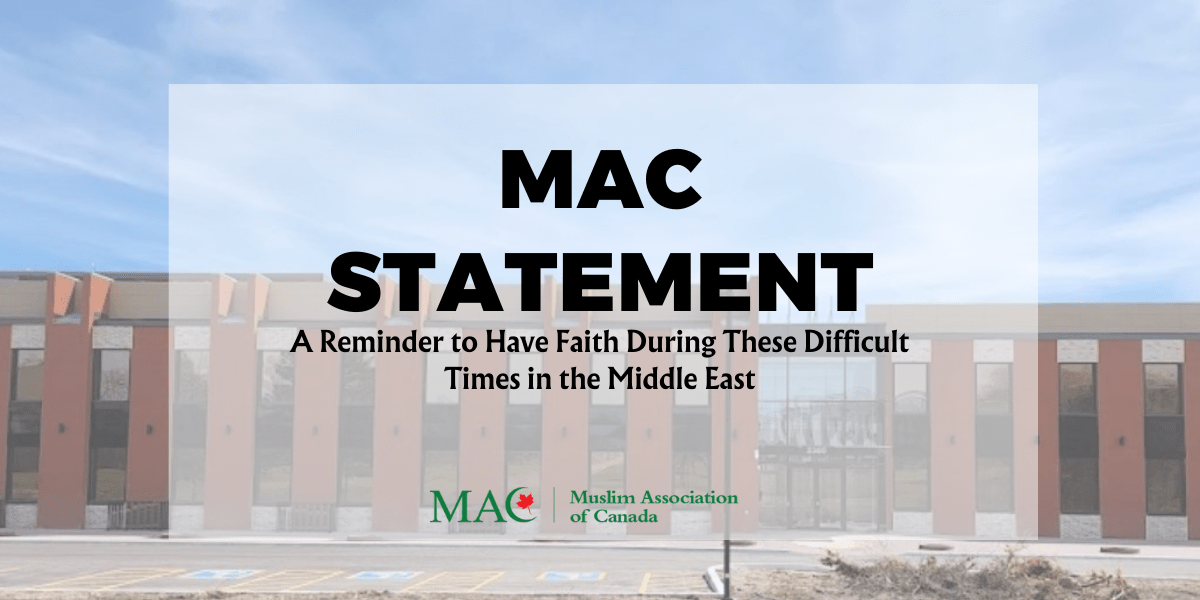 October 13, 2023
For Muslims across the globe, the holy Al-Aqsa Mosque, the second house of worship established on Earth, symbolizes a deep spiritual bond with Palestine, anchoring the Palestinian cause firmly within our faith.
As such, we understand the pain that our community is feeling as it witnesses events unfold in the Middle East with heavy hearts. The toll has been devastating, with hundreds dead and thousands wounded.
We extend our deepest prayers and thoughts to all Canadians who have family and loved ones impacted by the conflict.
As a community, we cannot forget that for many decades, Palestinian people have endured occupation and oppression, including ongoing clashes and desecration of Al-Aqsa Mosque. Gaza has faced a 16-year blockade, often called the world's "largest open-air prison," with Israeli forces causing harm to innocent Palestinian civilians who have been stripped of their basic human rights.
The response of our Canadian government and elected officials has been unbalanced and biased, minimizing the suffering of innocent Palestinians. While Israeli civilian casualties have been immediately condemned, the indiscriminate killing of Palestinian civilians is overlooked. Canadian leaders seem to refuse to acknowledge that all human lives hold equal worth. This is a double standard that elected officials should refrain from.
In these difficult times, we first and foremost remind our community members to rely on Allah and turn to Him in prayer to save lives and restore justice. You are not without recourse.
It is our community's duty to courageously voice the truth and stand for justice and we should advocate for the Palestinian cause by raising awareness among friends, colleagues, neighbours, local MPs, and on every possible forum.
Voicing our commitment to justice and Palestinian rights is a fundamental freedom. Stifling peaceful voices and dialogue on Palestinian rights, misrepresenting the Palestinian flag or traditional kufiya as symbols of terrorism or antisemitism, school boards suppressing student perspectives, and government and media disseminating misinformation all contribute to the marginalization of our community, the rise of Islamophobia and risk driving our youth towards radical views.
Publicly protesting must be displayed with the best Islamic morals and manners and we should not condone any activity that spreads hatred and division amongst Canadians. Doing so will only undermine the reality and truth of the Palestinian cause and the ongoing suffering of the Palestinian people. As we advocate, we must distinguish between the State of Israel and its policies, and the Jewish people who are our neighbours and colleagues here in Canada.
As the Muslim community gathers today for Friday prayer, and as other faith communities gather in devotion, MAC expresses its concern for the safety of Canadians and calls for ensuring peace and security at all places of worship, schools, and community events.
On this blessed Friday, we encourage you to support humanitarian organizations that are already responding to the needs of our brothers and sisters in Palestine who have been deprived of basic means of life, lost their homes, suffered injuries, and the tragic loss of loved ones.