Islamophobic Attacks on the MAC Convention 2022 and Renowned Islamic Scholars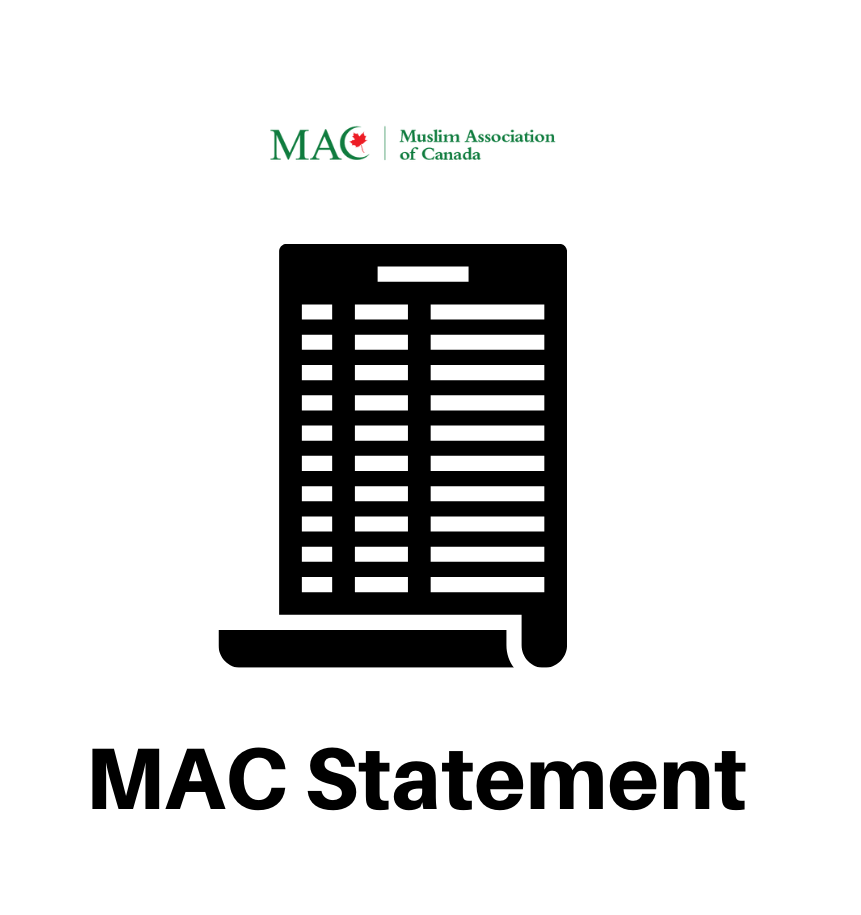 July 2, 2022 – On June 30, 2022, the National Post ran an opinion piece by Terry Glavin on the MAC Convention. MAC takes exception to the insinuations made in this opinion piece that not only have no basis, but are in fact supported by Islamophobic sources and misinformation.
This opinion piece must be recognised for what it is: a blatant attempt to discredit a respectable Canadian institution and renowned Muslim scholars.
Throughout the last month, an organised attack on the MAC Convention has been carried out by individuals associated with the Jewish Defense League (JDL), which is identified as a terrorist organisation by the United States government. JDL members have been actively spreading misinformation about the Convention and its speakers, and the National Post has given credibility to the narrative that they are peddling.
The opinion piece is another move made to cast MAC in a negative light as an organisation that promotes hate without any attempt to attend the MAC convention or any knowledge of MAC's programs and services across Canada.
MAC's understanding of Islam is one based on the Quran and prophetic traditions. MAC rejects the arguments of commentators, such as the Centre for Israel and Jewish Affairs (CJIA), that contend that the MAC does not reflect the Islamic viewpoint of the majority of Canadian Muslims. Contributors to this opinion piece do not have the authority to decide which segments of the Muslim community are acceptable and which are not, or which doctrines of Islam are compatible with Canadian values.
This opinion piece is Islamophobic and solely aims to delegitimize the participation of Muslims in the public space, MAC's cooperation with the Government of Canada, and MAC's charter challenge against the CRA which has been launched to protect the rights and freedoms of Canadian Muslims.
About MAC
MAC is a Canadian grassroots organisation that provides spiritual, educational, and social services that benefit thousands of Canadians across various communities. It is an apolitical grassroots charity and its work is focused entirely in Canada.
MAC has served in consultation with all levels of government on issues that pertain to policy and legislation to tackle Islamophobia and all forms of hate.
MAC has collaborated with leaders across many organizations, interfaith networks and research institutes to fight Islamophobia, Anti-Semitism and racism.
MAC has worked on critical projects with both the Federal and Provincial governments to tackle the growing hate in our country. MAC welcomes further opportunities to partner with governments at all levels.
About the MAC Convention
The MAC Convention 2022 has brought together a global community of scholars, writers, thinkers, influencers, activists, and professionals. The convention is a collective collaboration of over 50 Canadian organisations that specialise in the fields of academia, family and mental health, youth, relief and humanity, civic participation, and other areas.
Thousands of Canadian Muslims from across the country are in attendance to learn and participate in dialogue with leading scholars and speakers.
Islamophobia and Cancel Culture
MAC values Canada's pluralistic society that embraces diversity and protects human dignity and freedom for all. As a charity that advances religion, MAC believes that Canadian Muslims must be true to their faith, respectful of others, and enrich society with their faith and service.
MAC has robust policies around speakers and speeches delivered in MAC's centres and conferences and ensures that speeches reflect the true message and universal values of Islam and the Muslim community such as justice, mercy, peace, respect, security, equity, dignity, and equality. The policy specifically states "sermons, speeches and supplications should not be a platform for discriminatory remarks or hate speech, nor for the sharing of political/partisanship views. Sermons, speeches and supplications should promote respect, tolerance, and harmony. All imams and speakers, including guests and teachers, should adhere to this protocol."
MAC does not cancel internationally renowned scholars for their legitimate right to speak about Islamic teachings or have a political position as long as these opinions and views do not promote hate or violence.
Particularly concerning is the author's attempt to defame Dr. Jamal Badawi, a Professor Emeritus at St. Mary's University in Halifax, who holds an Honorary Doctorate for his promotion of a better understanding of Islam and civil society. Dr. Badawi is considered to be a founding father of the Canadian Muslim community.
MAC is further concerned about the author of the National Post opinion piece relying on MEMRI, a well documented Islamophobic source with an established reputation for distributing highly selective, distorted, and inaccurate translations of Arabic media to spread Islamophobia and to suit a political agenda.