Message from MAC Chairman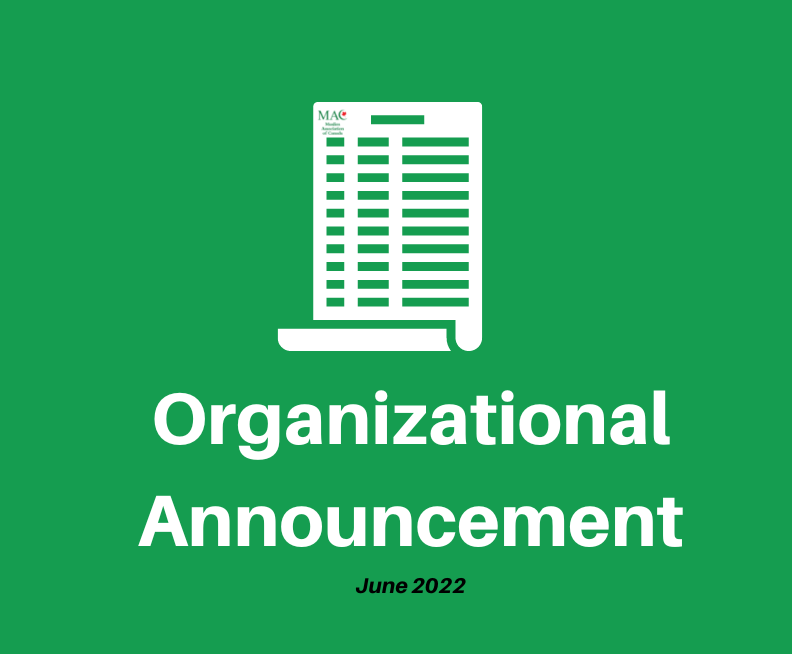 June 25, 2022
Assalam Alikom wa Rahmatu Allah wa Barakatuh,
Since the establishment of the Muslim Association of Canada (MAC) in 1997, by the grace of Allah and with the support of our community, and under the leadership of our Executive Director, Br Sharaf Sharafeldin, MAC has steadily expanded to become the nation's leading grassroots Muslim organization with thriving chapters and institutions.
Alhamdulillah, everywhere MAC has a presence, we're at the forefront of supporting our community through schools, mosques, Islamic centers, or activities.
MAC's operations have become more complex, labor-intensive, and time-consuming as we strive for institutional excellence with a national footprint and more than 50 institutions around the country. It is becoming more important than ever before to continue cultivating and expanding the organization so that it can keep up with the ever-growing Canadian Muslim population and the needs of the community.
After two years of planning, and to meet the growing needs of our community and our organization, MAC is moving forward with the implementation of a new leadership paradigm. The organization will now have a President-Executive and a President-Strategy in place of a single Executive Director.
We would like to extend our warmest congratulations to Br Sharaf Sharafeldin on his advancement to the position of President-Strategy. Br Sharafeldin has successfully served as the Executive Director of the organization for the past 20 years. The organization extends its deep appreciation for Br Sharaf's many years of selfless service and dedication. As part of his responsibilities in this position, he will concentrate on long-term strategy, the expansion of the organization, and the exploration of new strategic channels. In addition he will continue to lead the organization through the remainder of its Charter Challenge and the CRA audit.
Additionally, we congratulate Br Abdullatif Bakbak on his appointment to the office of President-Executive. In this capacity, he will be responsible for the operational management of the organization and its institutions, the development and implementation of executive and operational plans and policies, and the promotion of community relations.
The Board is enthusiastic about the opportunities this transition will afford our organization and the Muslim community. We pray that Allah blesses this step forward and that it has a positive impact on our community and ummah.

Dr. Nabil Sultan,
Chairman, Muslim Association of Canada