Letter from the Editors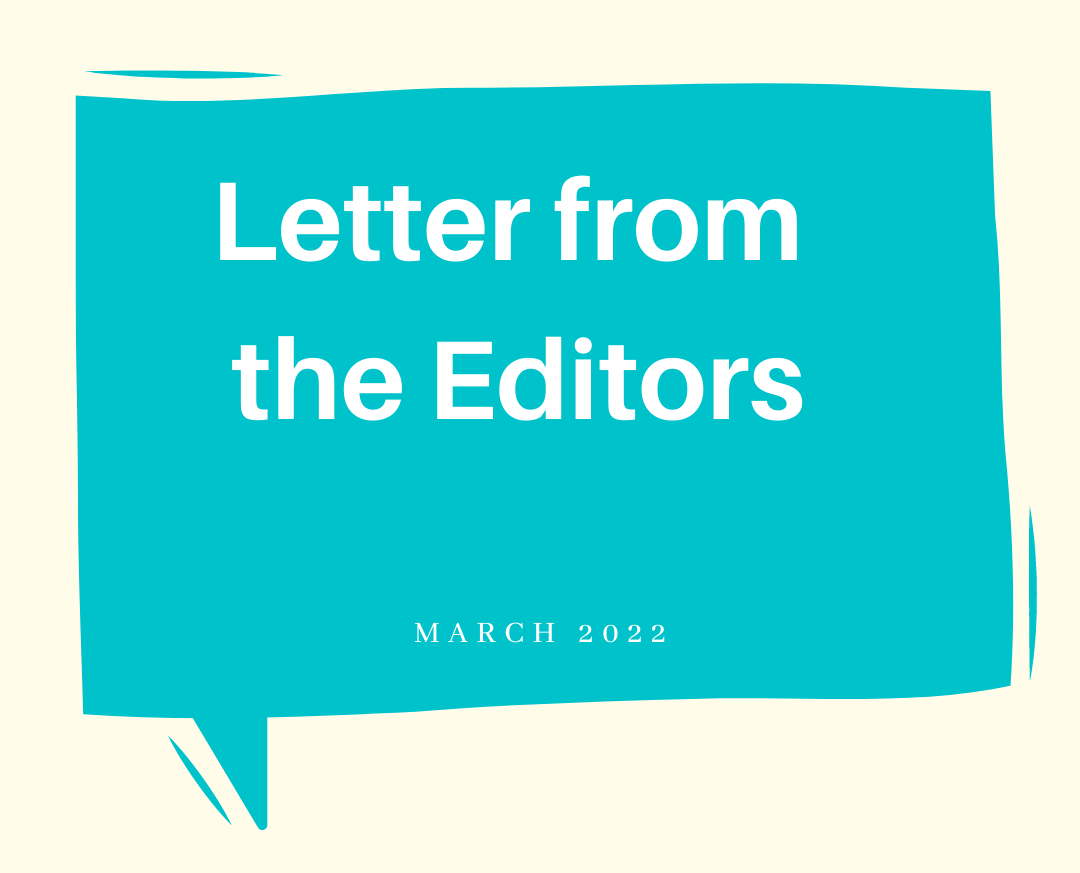 March 3, 2022
Assalamualaikum Wa Rahmatullahi Wa Barakatuh,
Dear Brothers and Sisters,
We pray that each of you are well, and that your families and communities around you are well, healthy, and safe, insha' Allah.
This past month, MAC has lost a great member of its community, our dear brother Dr. Bachar El-Solh. He has impacted the lives of many in Quebec and across Canada. May Allah (SWT) accept his good deeds, grant him Jannat-al-Firdaws, and give his family patience.
By the Mercy and blessing of Allah(swt), as many COVID-19 restrictions across the country are getting lifted this month, MAC's programs and activities are returning again in person within our chapters across Canada. We highly encourage you to find out what is happening at your local MAC chapters this month. MAC Youth and MAC Youth Junior had many programs running in February in Ottawa, where they had a successful Winter Revival Retreat, Calgary, Montreal, Toronto and many more.
This past month, MAC and Naseeha Helpline engaged in a productive roundtable discussion with Stephen Lecce (Ontario's Minister of Education), Kaleed Rasheed (Associate Minister of Digital Government), and Parm Gill (Minister of Citizenship and Multiculturalism), at MAC's head office, about combating mental health within the education system. In Canada, it is estimated that 1.2 million children and youth are affected by mental illness. At MAC, our team has been working across Ontario to address the issues related to mental health and Islamophobia in many sectors including education. The grant given to MAC by Ontario's Ministry of Education will be used to create much-needed resources for educators, students and parents in the Ontario school system.
Our organization is always striving to create programs and events that engage the community and wider society in meaningful conversations, addressing issues that are relevant to the narrative of Islam and Muslims in Canada. Allhumduliah, we successfully launched MAC's first live talk show, Islam and Life, hosted by Br. Khaled Alqazzaz and Sr. Memona Hossain. This show is a live in-studio program, community based and the first of its kind in Canada. The aim of the show is to focus on bringing Islam into the public discourse around contemporary issues and presenting the Islamic frame of reference as an important perspective into day to day concerns. You can watch their weekly show every Thursday at 8 PM EST on MAC's Youtube channel, where you will also find the previous episodes.
Lastly, we encourage you to stay updated on the programs of each local chapter as we prepare for a blessed Ramadan, insha' Allah. Stay tuned for amazing Ramadan programming announcements coming up later this month. May Allah (SWT) bless each of you and your families and guide us toward a blessed Ramadan together, insha' Allah.
Newsletter Editorial Team
Muslim Association of Canada