MAC's Statement on National Day of Remembrance of the Québec City Mosque Attack and Action against Islamophobia 2022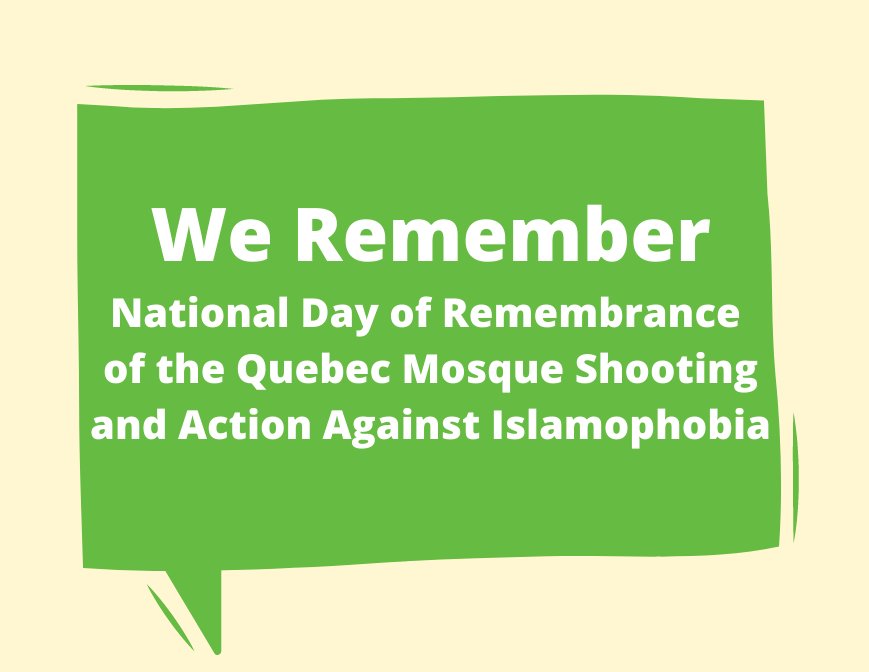 Mississauga – January 29th, 2022: The Muslim Association of Canada stands in solidarity with the families of the victims of the Islamic Cultural Centre in Quebec City shooting. Khaled Belkacemi, Aboubaker Thabt, Mamadou Tanou Barry, Ibrahima Barr, and Abdelkrim Hassane lost their lives to a tragic terrorist attack five years ago.
Last year Canadian Muslims welcomed the Honourable Prime Minister Justin Trudeau's announcement to mark January 29 as the National Day of Remembrance and Action Against Islamophobia. Despite this, Islamophobic attacks against Muslims in Canada have increased significantly. The London attack that claimed the lives of four members of the London family, as well as the murder of Mohamed-Aslim Zafis, a volunteer at an Etobicoke mosque, have both illustrated the horrifying consequences of Islamophobia.
Online hate, primarily through social media, continues to fuel Islamophobia and animosity towards Canadian Muslims. Systemic Islamophobia continues within some government agencies such as the Canada Revenue Agency (CRA) and the Canadian Border Services Agency (CBSA).
In the National Action Summit on Islamophobia MAC called to institutionalize the fight against Islamophobia through a federal office to implement an anti-Islamophobia strategy, eliminate institutional and systemic Islamophobia, among other recommendations.
MAC welcomes the announcement by the Honourable Ahmed Hussen, Minister of Housing and Diversity and Inclusion, that the federal government intends to appoint a special representative on combating Islamophobia. This appointment will be part of a renewed Government of Canada Anti-Racism Strategy. This is an important step forward in responding to the recommendations of Canadian Muslims.
January 29th is a pledge by the Government of Canada to take strong actions to guarantee that our country is a society in which "we celebrate diversity, where we stand together, and where we look out for one another," as promised by Prime Minister Justin Trudeau.
MAC is dedicating resources to combat Islamophobia through education. Among many initiatives is the new Islamawareness.ca portal funded by the ministry of Education in Ontario. We must continue to work together to combat Islamophobia in Canada.
For Media Inquiries please contact communications@macnet.ca or 905-822-2626 ext.233
About MAC:
The Muslim Association of Canada (MAC) is the largest Muslim organization in Canada. MAC brings a balanced, constructive and engaged understanding of Islam that aims to inspire Muslims in Canada.