The Best of Both Worlds at Abraar Secondary School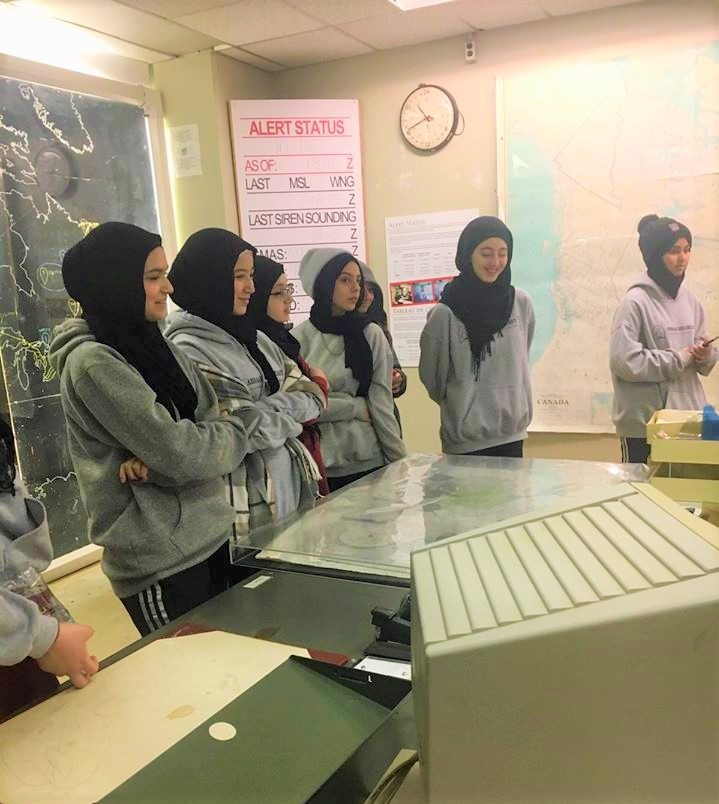 The Best of Both Worlds at Abraar Secondary School
École secondaire Abraar Le meilleur des deux mondes
While the majority of Muslim children in the city attend public schools, an increasing number of parents are opting to send their kids to an Islamic school instead. These parents are driven by the desire to have their children educated in a school that inculcates Islamic ethos in an academic setting as the emphasis is placed on the beliefs and practices of the faith throughout the school year. Students have the opportunity to excel academically while they also attain sound grounding in Islamic teachings based on the Noble Quran and the Prophetic tradition. This important early grounding in their faith will provide the students with values from which they will draw lessons and use as guiding principles throughout their lives.
A project of the Muslim Association of Canada, Abraar Secondary School, located in the Bayshore area, is the city of Ottawa's leading Islamic school. It is a combined middle school and high school for grades 7 to 12. The high school program runs from September to June and is divided into two separate semesters: September to January and February to June. Students can enroll at the start of either semester or join the classes at mid-semester if need be. We have a team of dedicated staff who have a passion for teaching and a particular affection for the Islamic environment in which they teach. They are among the best in their profession. Relatively small class sizes allow the teachers to devote considerable time to each individual student – helping them explore their strengths and unique talents and encouraging them to aim higher in order to reach their full potential.
With the aim of facilitating an understanding of the Quran and ahadith, we offer language courses that initiate the students into a long-term study of Arabic, the sacred language of Islam. We also encourage the memorization of the Noble Quran.
We have a mosque on-site where the students perform the daily prayers as well as attend and benefit from the regular Friday khutbas. This is a true blessing because it teaches the young students the importance of rituals in our religion, and inspires a love for the prayer and making the prayer a central practice in our daily lives. Abraar Secondary School also offers a French language program that meets the provincial requirements and both the middle school and high school programs include French language courses. Students who wish to deepen their knowledge of French have the opportunity to go beyond the requirements and take their language skills to a higher level.
Abraar Secondary School encourages an overall attitude towards healthy living and physical activity for all students. We offer a full athletic program that includes swimming, basketball and indoor soccer. We encourage both male and female students to embrace healthy, active living and participate in the school athletic program. Abraar Secondary School offers young students a sound grounding and deep knowledge of Islamic beliefs and practices – while staying fully committed to academic excellence among the highest in the province of Ontario. Students reach for the stars in both their academic studies and Islamic teachings. Our academic programs fully prepare the students for post-secondary education and equip them with the tools they need to become competitive in their chosen fields.
All in all, Abraar Secondary School is all about academic excellence delivered in a nurturing, protective Islamic environment that gives the students a unique growing and learning experience. It is simply the best of both worlds.
A big thank you to our generous Donors!
Un grand merci à nos généreux donateurs!
To donate, visit this link.
French Version
Un projet de l'Association musulmane du Canada, l'école secondaire Abraar, située dans la région de Bayshore, est la principale école islamique d'Ottawa. Il s'agit d'une école secondaire du secondaire 1 au secondaire 5. Le programme du secondaire se déroule de septembre à juin et il est divisé en deux semestres distincts: septembre à janvier et février à juin. Les étudiants peuvent s'inscrire au début de chaque semestre ou rejoindre les cours au milieu du semestre si besoin est.
Nous avons une équipe de personnel dévoué qui a une passion pour l'enseignement et une affection particulière pour l'environnement islamique dans lequel ils enseignent. Ils sont parmi les meilleurs de leur profession. Des classes de petits groupes permettent aux enseignants de consacrer un temps considérable à chaque élève – les aidant à explorer leurs forces et leurs talents uniques et les encourageant à viser plus haut afin d'atteindre leur plein potentiel.

Dans le but de faciliter la compréhension du Coran et des hadiths, nous proposons des cours de langue qui initient les étudiants à une étude à long terme de l'arabe, la langue sacrée de l'islam. Nous encourageons également la mémorisation du Noble Coran. Nous avons une mosquée sur place où les étudiants accomplissent les prières quotidiennes et assistent aux khutbas régulières du vendredi. Cette mosquée est une vraie bénédiction car elle enseigne aux jeunes étudiants l'importance des rituels dans notre religion, et leur inspire l'amour de la prière et rend cette ibada une pratique centrale dans notre vie quotidienne.

L'école secondaire Abraar offre également un programme de la langue française qui répond aux exigences provinciales. Les programmes du secondaire comprennent en outre des cours de français. Les étudiants qui souhaiteraient approfondir leurs connaissances du français, ont la possibilité d'aller au-delà des exigences et de mener leurs compétences linguistiques à un niveau supérieur.

L'école secondaire Abraar encourage une attitude globale pour une vie saine rempli d'activités physiques pour tous les élèves.
Nous offrons un programme sportif complet et nous encourageons les étudiants filles et 

garçons 

à adopter une vie saine et active et à participer au programme sportif de l'école. L'école secondaire Abraar offre aux jeunes étudiants une base solide et une connaissance approfondie des croyances et des pratiques islamiques tout en restant pleinement attaché à l'excellence académique parmi les plus élevées de la province de l'Ontario.


Dans l'ensemble, l'école secondaire Abraar est synonyme d'excellence académique dans un environnement islamique stimulant et protecteur qui offre aux élèves une expérience de croissance et d'apprentissage unique. C'est tout simplement le meilleur des deux mondes.
Ms. Ali
Principal