CBC CALGARY: Calgary Muslims celebrate Eid COVID-19-style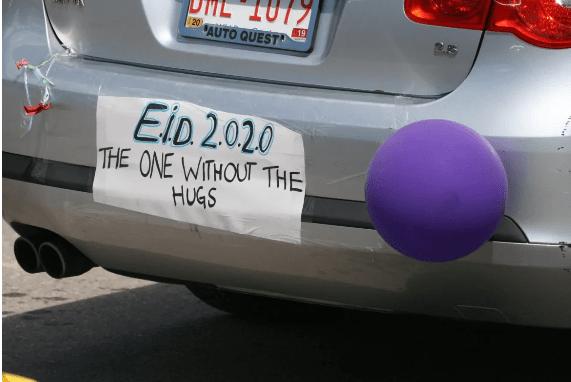 Calgary Muslims celebrate Eid COVID-19-style
Dan McGarvey
 · 
CBC News
 · 
It's supposed to be a colourful three-day celebration of family, friends and parties, but Eid in Calgary looks a lot different this year.
Eid al-Fitr, or the Festival of Breaking the Fast, follows the holy month of Ramadan. Tens of thousands of Muslim families, friends and neighbours typically spend time together and share food after a month of fasting and prayer.
But this year, social distancing means finding new ways to do things, with most Eid prayers and gatherings cancelled.
The Al-Salam Centre in northwest Calgary held a drive-thru celebration on Sunday, with volunteers in masks and gloves using trash pickers to hand out goodie bags to kids through car windows. People decorated their vehicles with banners, balloons and signs, blasting horns and using the popular greeting "Eid Mubarak."
"The kids are the ones who are missing it the most so we decided to do something creative," said Ibrahim Jadalowen.
The event was such a success, volunteers ran out of the 800 goody bags they'd made and had to scramble to put more together.
As well as the drive-thru, the Calgary branch of the Muslim Association of Canada held a virtual celebration with artists and performers taking Eid online.
"We decided to take Eid to their homes, from their houses where they can celebrate in a safe place," said Jadalowen.
Eid wraps up on Tuesday.
You can see more photos of the Eid drive-thru below:
The original article can be found here.