Tackling systemic racism starts with an overhaul within government institutions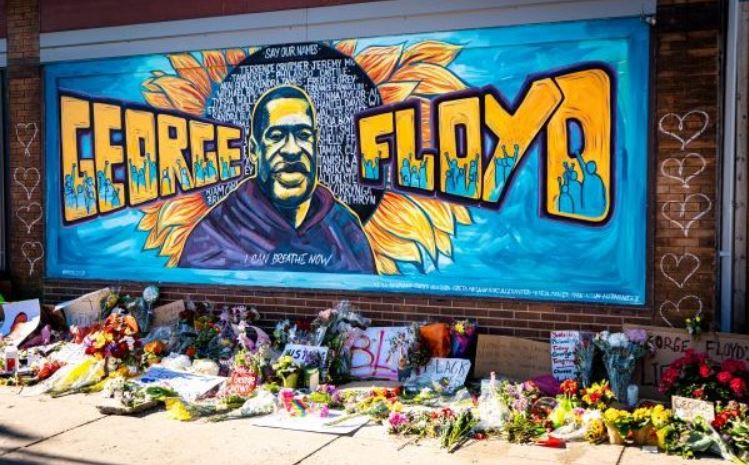 Given the impact that political rhetoric and policies have in dictating the social climate, it is an area for anti-racist work to be done well to set a precedent.
A memorial for George Floyd, the Minnesota man who died of asphyxiation while a police officer pinned him down with a knee to his neck. Photograph courtesy of Unsplash.
In recent months, there has been increased attention to systemic racism brought on by demonstrations worldwide since the killing of George Floyd in June.
In Canada, the recent death of Joyce Echaquan due to alleged racially motivated negligence and the brutal killing of Mohamed-Aslim Zafis outside a Toronto mosque, have led to calls for changes to be made. While much attention is rightfully being paid to hate groups and overt race-based violence, there is little focus on rooting out systemic racism in the institution responsible for the rest of society: the Government of Canada.
Given the impact that political rhetoric and policies have in dictating the social climate, it is an area for anti-racist work to be done well to set a precedent.
In response to growing calls from Canadians, the government has committed to combating online hate, practicing better data collection on race, supporting economic empowerment, celebrating Black culture and heritage, and overhauling policing and justice. While these present commitments are noteworthy, especially in demonstrating a clear understanding of the undeniably intersectional and systemic nature of racism, there needs to be a more intentional commitment to eliminating racism within the government itself.
In anti-racism work, it is an established principle that if racism is addressed outwardly by allies or institutions without first or simultaneously being addressed inwardly, the possibility for more harm increases. As the centre of social policy affecting all racialized groups, the federal government has the ability to lead in how we address systemic racism, by looking inwards first and working hard to reduce harm from its institutions.
No one person or entity is ever exempt from the possibility of causing racial harm; rather, one must always adopt a committed anti-racist attitude to address issues we know will arise. Despite the efforts of the government thus far, in recent years, Canadians have been made aware of far-right penetration into the military, and the increased threat of such extremism to society at large. Systemic racism has shown up in the RCMP and CSIS has engaged in illegal activities targeting racialized groups from Muslims and refugees to Indigenous peoples. Canada Border Services Agency's data raised questions about the alleged use of racial profiling and the CRA has committed outright discrimination without impunity or apology. CTV's analysis of CBSA data showed that more than 13 per cent of travellers carrying passports from Middle Eastern countries and 11 per cent from African or Caribbean nations went through additional screening.
Recently, Prime Minister Justin Trudeau himself has spoken about examining the roots of structural racism and discrimination. He promised that the government would "move much quicker on responding to these things, [and] on making changes to our institutions to really go after systemic discrimination." It's clear this government recognizes the wider issue of societal racism. It's time to leave an exceptional legacy and set their own house in order first.
In the past, promises to take action have consistently fallen short, but there is always a chance to act better and act now. Some steps in the right direction have been taken by the Liberal government, including the establishment of the National Security and Intelligence Committee of Parliamentarians and the passing of motion 103 recognizing systemic discrimination and Islamophobia.
Ultimately, actions need to go further to be taken seriously. The Liberal government was elected on a change mandate and shifts are needed at the very root of the problem. Impacted communities need to be consulted on the best way forward for Canadians marginalized by systemic racism in policing and intelligence. Canadians need to be able to trust that their voices are being heard.
There is no denying that the issue of racism permeates every aspect of society and the Government of Canada is no exception. We need to fix its underlying problems, and its agencies need to have racism rooted out. Without an honest look inward, we stand little chance of fixing wider societal ills and systemic racism on the whole.
For Black, Indigenous, and racialized Canadians, this could mean the difference between life and death, between thriving and ongoing struggle. As a nation, we're only strong when we move forward together, working towards an anti-racist future in government and better society for all.
Issam Saleh serves as the director of community engagement for the Muslim Association of Canada and is a board member with the Capital Region Housing Corporation.
Click here to read original article