MAC ANNOUNCES EID El- FITR 1441 SUNDAY MAY 24th, 2020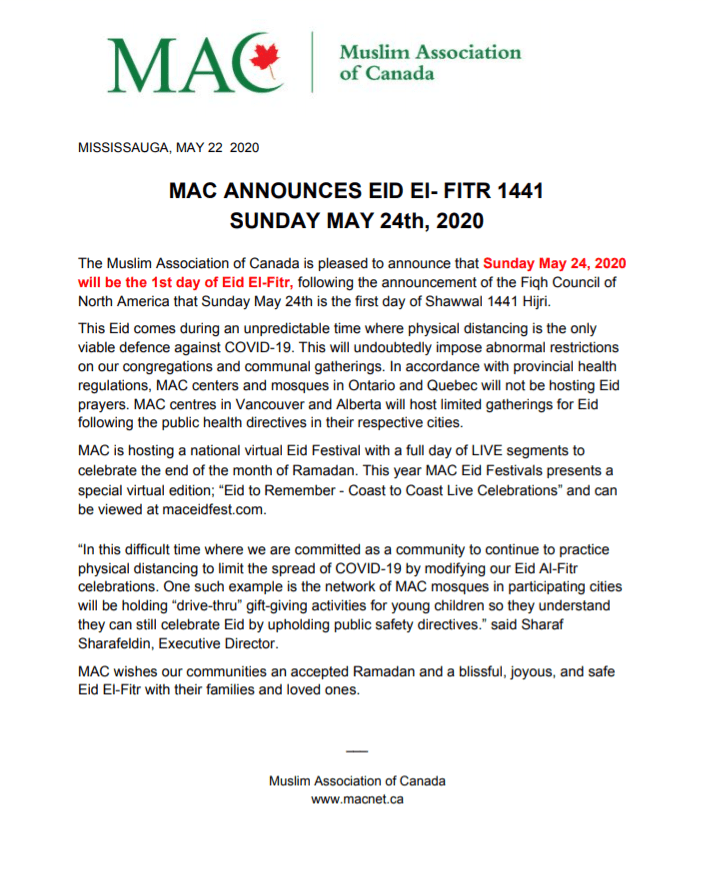 MISSISSAUGA, MAY 22  2020 
MAC ANNOUNCES EID El- FITR 1441 
SUNDAY MAY 24th, 2020 
The Muslim Association of Canada is pleased to announce that Sunday May 24, 2020 will be the 1st day of Eid El-Fitr, following the announcement of the Fiqh Council of North America that Sunday May 24th is the first day of Shawwal 1441 Hijri. 
This Eid comes during an unpredictable time where physical distancing is the only viable defence against COVID-19. This will undoubtedly impose abnormal restrictions on our congregations and communal gatherings. In accordance with provincial health regulations, MAC centers and mosques in Ontario and Quebec will not be hosting Eid prayers. MAC centres in Vancouver and Alberta will host limited gatherings for Eid following the public health directives in their respective cities. 
MAC is hosting a national virtual Eid Festival with a full day of LIVE segments to celebrate the end of the month of Ramadan. This year MAC Eid Festivals presents a special virtual edition; "Eid to Remember – Coast to Coast Live Celebrations" and can be viewed at maceidfest.com.
"In this difficult time where we are committed as a community to continue to practice physical distancing to limit the spread of COVID-19 by modifying our Eid Al-Fitr celebrations. One such example is the network of MAC mosques in participating cities will be holding "drive-thru" gift-giving activities for young children so they understand they can still celebrate Eid by upholding public safety directives." said Sharaf Sharafeldin, Executive Director.
MAC wishes our communities an accepted Ramadan and a blissful, joyous, and safe Eid El-Fitr with their families and loved ones.
___
Muslim Association of Canada 
www.macnet.ca