MAC IRISE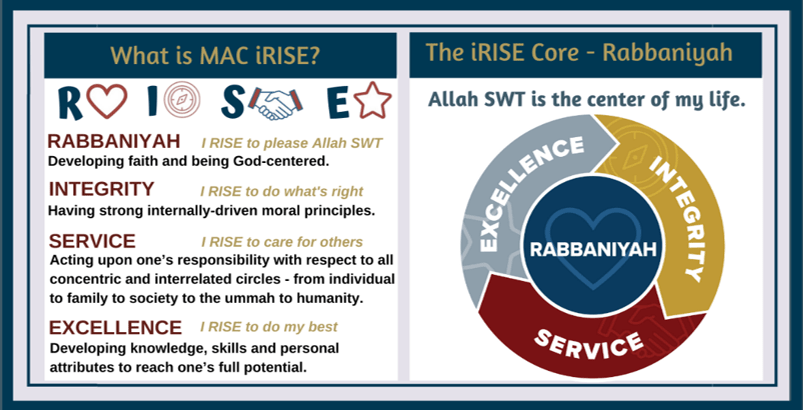 At MAC, education and tarbiyyah are our top priority.  We believe in nurturing students in our schools to be spiritually connected, strongly grounded in their own faith, motivated and enthusiastic, with a solid understanding of how to practice Islam in their lives.

MAC iRISE is an evidence-based, community-driven character education approach whereby students embody Islamic values and acquire relevant life skills to meet the 21st-century challenges, rooted in Rabbaniyah (developing a strong relationship with Allah SWT).  It is designed as a holistic and contextualized framework that supports students in their pursuit to get closer to Allah SWT by pleasing Him and thus grow to be the best version of themselves.  MAC iRISE  is unique; it is integrated throughout the school experience both inside and outside the classroom by all teachers and school staff – Everywhere and All the Time.

MAC iRISE is currently in 6 schools across the country: MAC Olive Grove School, MAC Maple Grove School, MAC Al-Furqan Scarborough, MAC Islamic School (Edmonton), MAC Abraar Elementary School, and MAC Abraar Secondary School.  MAC iRISE strives to support students to embody the Islamic character, to reach their full potential, to have a strong sense of responsibility and care, and to be prepared to rise above any challenges,they may face. To learn more please visit.