MAC Statement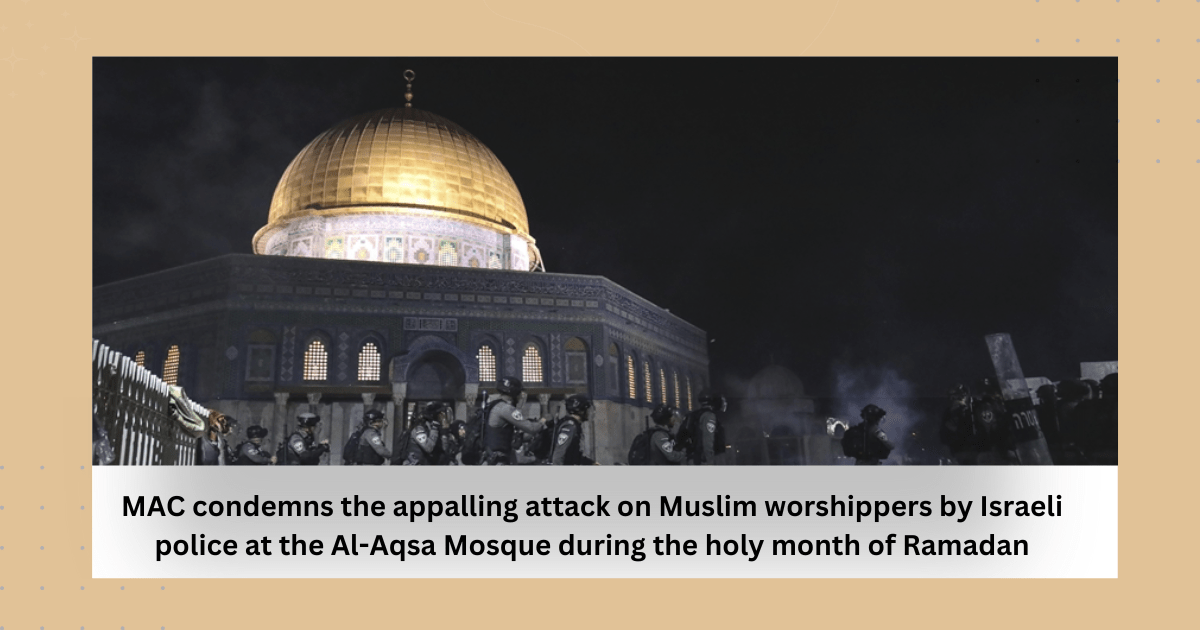 MAC condemns the appalling attack on Muslim worshippers by Israeli police at the Al-Aqsa Mosque during the holy month of Ramadan
April 5, 2023
La version française suivra 
The Muslim community was shocked with the news of the appalling attack on Muslim worshippers by Israeli police at the Al-Aqsa Mosque during the holy month of Ramadan. This is an affront to the values of freedom of religion, tolerance and respect that we as Canadians hold dear.
Al-Aqsa Mosque in Jerusalem is one of the most sacred sites in Islam and one that holds an important place in the heart of every Muslim. Such desecration is a heinous crime and an affront to the Muslim community both here in Canada and around the world. Itikaf is a religiously mandated worship that entails worshippers staying up in a Mosque all night in prayer and reflection, following the example of Prophet Muahmmad (PBUH) who engaged in Itikaf throughout Ramadan. It is an inherent right for all Muslims in Jerusalem to worship in peace and serenity. Israeli forces have no right to limit worshippers in their holy places, let alone unleash such awful violence in one of the holiest times of the year for Muslims.
The Muslim Association of Canada (MAC) condemns this despicable act of violence by Israeli police on worshippers, and calls on Canadian Muslims to show solidarity with their brothers and sisters at Al-Aqsa Mosque. This can be done by raising awareness about the Israeli aggressions and violations, raising concern with elected officials, supporting the victims through Canadian Muslim charities, and most importantly praying for their relief and for justice. The blessed month of Ramadan is the best time to do all the above. It is a month of unity of the ummah, a month of sacrifice, a month of charity and a month of prayers and acceptance.
MAC also urges the Canadian government to take immediate action in condemning the rise in violence condoned by the far-right Israeli government. The ongoing violence against Palestinian civilians, including women and children, is a blatant violation of international law and basic human rights. It is imperative that Canada speaks out against these atrocities and uses its diplomatic influence to put pressure on the Israeli government to end their oppressive policies.
Canada has a responsibility to stand up for justice and promote peace, and it is high time that our government takes a firm stance against this unacceptable behavior.
---
L'Association musulmane du Canada (MAC) condamne l'effroyable attaque contre des fidèles musulmans par la police israélienne à la mosquée Al-Aqsa
La communauté musulmane a été choquée par la nouvelle de l'effroyable attaque contre des fidèles musulmans par la police israélienne à la mosquée Al-Aqsa pendant le mois sacré du Ramadan. C'est un affront aux valeurs de liberté de religion, de tolérance et de respect qui nous sont chères en tant que Canadiens.
La mosquée Al-Aqsa à Jérusalem est l'un des sites les plus sacrés de l'islam et qui occupe une place importante dans le cœur de chaque musulman. Une telle profanation est un crime odieux et un affront à la communauté musulmane ici au Canada et partout dans le monde. Itikaf est un culte religieusement mandaté qui implique que les fidèles restent debout dans une mosquée toute la nuit pour prier et réfléchir, à l'instar du prophète Muhammad (PSL) qui s'est engagé dans Itikaf tout au long du Ramadan. C'est un droit inhérent pour tous les musulmans de Jérusalem de prier dans la paix et la sérénité. Les forces israéliennes n'ont pas le droit de limiter les fidèles dans leurs lieux saints, et encore moins de déclencher une violence aussi affreuse en l'une des périodes les plus saintes de l'année pour les musulmans.
L'Association musulmane du Canada (MAC) condamne cet acte de violence ignoble de la part de la police israélienne contre les fidèles et appelle les musulmans canadiens à faire preuve de solidarité avec leurs frères et sœurs à la mosquée Al-Aqsa. Cela peut être fait en sensibilisant aux agressions et aux violations israéliennes, en suscitant l'inquiétude des élus, en soutenant les victimes par le biais d'organisations caritatives musulmanes canadiennes et, surtout, en priant pour leur soulagement et pour la justice. Le mois béni du Ramadan est le meilleur moment pour faire tout ce qui précède. C'est un mois d'unité de la oummah, un mois de sacrifice, un mois de charité et un mois de prières et d'acceptation.
MAC exhorte également le gouvernement canadien à prendre des mesures immédiates pour condamner la montée de la violence tolérée par le gouvernement israélien d'extrême droite. La violence qui continue contre les civils palestiniens, y compris les femmes et les enfants, est une violation flagrante du droit international et des droits humains fondamentaux. Il est impératif que le Canada dénonce ces atrocités et utilise son influence diplomatique pour faire pression sur le gouvernement israélien afin qu'il mette fin à ses politiques oppressives.
Le Canada a la responsabilité de défendre la justice et de promouvoir la paix, et il est grand temps que notre gouvernement adopte une position ferme contre ce comportement inacceptable.