To combat Islamophobia, charity leaders must commit to diversity and inclusion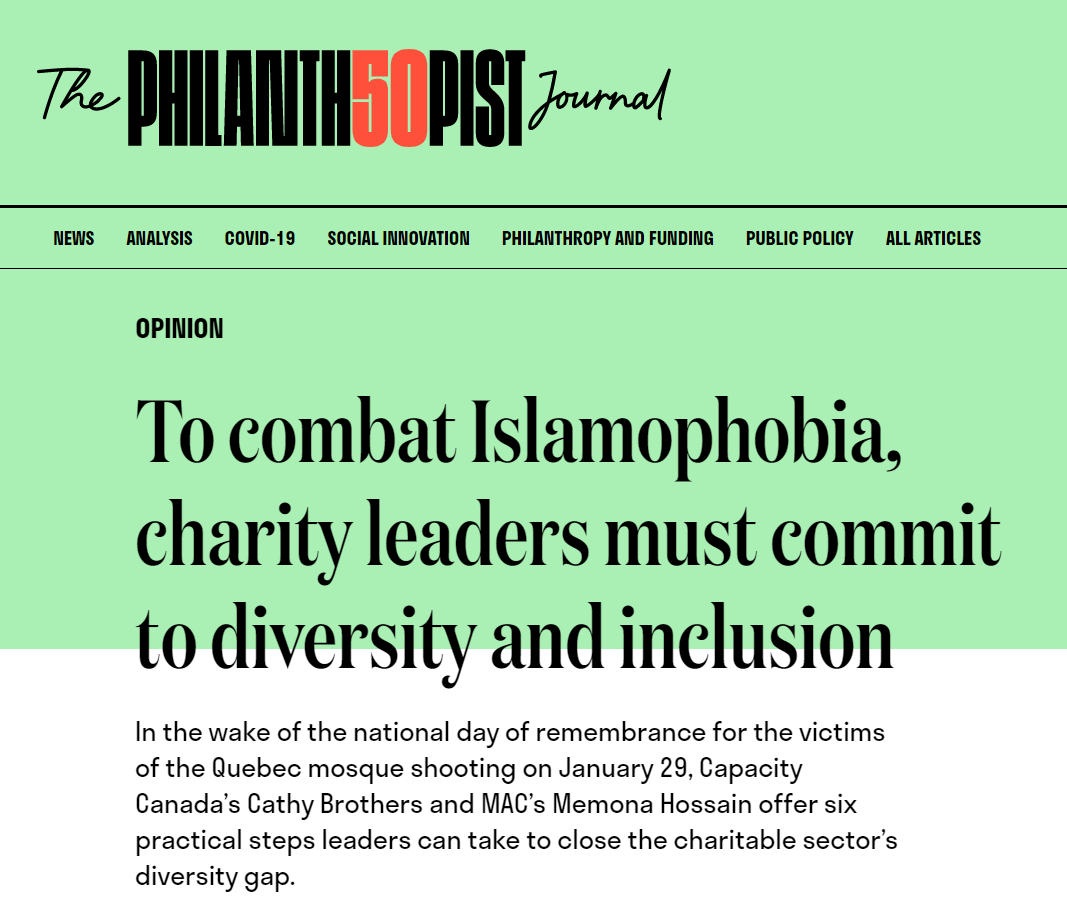 February 1, 2022 – Addressing Islamophobia effectively in Canada starts with leaders who are invested in meaningful relationships and collaborations. The Muslim Association of Canada (MAC), the largest Muslim charity in Canada, has focused on building such partnerships across various sectors to actively dismantle the drastic rise in Islamophobia. In the most recent collaboration, MAC and Capacity Canada, a pioneer in social innovation, joined together to foster discussion about what this means for the Canadian charitable sector.
Online hate activity in Canada has produced 3.2 million pieces of content this past year. Canadians have witnessed an increase in violence targeting visible Muslims and vandalism of mosques across the country. The intersectionality of various identities has resulted in overwhelming hate crimes and incidents against Black Muslim women. This experience for Canadian Muslims over the past decade can be explained by 54% of Canadians having an unfavourable view of Muslims, according to an Angus Reid study.
The elimination of Islamophobia is a societal obligation and a government responsibility, but it also … must be confronted by the charitable sector.
While most people think of Islamophobia in terms of ordinary individuals who may be passive receivers of socio-cultural messaging and narratives that foster mistrust and hatred of Muslims, this is not the only way it is manifested. Islamophobia is a system of racism and anti-religious bigotry fueled by key actors, who play a role in the manufacturing of anti-Muslim hatred, thus framing Muslim communities as irrational, incompatible, and as a security threat – and therefore impacting policies, legislations, and systemic behaviours that target Muslims. We have seen this recently with the Canada Revenue Agency (CRA) and reports – by the University of Toronto Institute of Islamic Studies and the International Civil Liberties Monitoring Group – of prejudice and Islamophobia in its audit practices toward Muslim charities.
Written by Memona Hossain (MAC, Q-Ed) and Cathy Brothers (CEO of Capacity Canada).
To read the full article on The Philanthropist Journal, please click here.