PRESS RELEASE Muslim Association of Canada Welcomes the Athan Broadcasting in Edmonton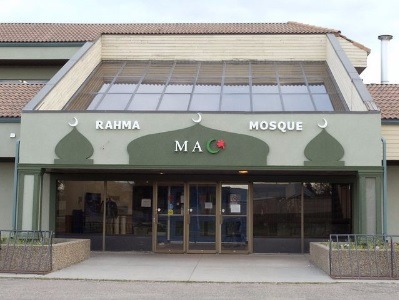 Edmonton April 13, 2021: The Muslim Association of Canada (MAC) sends Ramadan greetings to the Muslim community in Edmonton and across Canada. MAC has announced that Tuesday, April 13, 2021 will be the first day of Ramadan and Eid Ul-Fitr will be celebrated on Thursday, May 13, 2021.
To foster a sense of community and celebration, MAC has worked closely with the City of Edmonton administration and Mayor Don Iveson to welcome back the Athan. The Athan is a call to prayer.  In addition, the High-Level Bridge will be lit green to mark the start of Ramadan as well as the celebration of Eid Ul-Fitr. 
The City is a leader for setting a new Edmonton Ramadan tradition with its support for a 2–3-minute broadcast of the Athan every evening." says Yasin Cetin, Outreach and Engagement Advisor for the Muslim Association of Canada (MAC). He adds, "Ramadan will once again look different but hearing the Athan fosters a sense of community and connects Muslims to their neighbours."
"Last year, it was an emotional moment for community members who haven't heard the call to prayer since leaving their home countries. "
"The City of Edmonton is proud to support the socially, culturally, and religiously diverse communities that make Edmonton a welcoming place to live, and to support activities where residents can safely and openly practice their faith traditions," said City Manager Andre Corbould.
The MAC Centre continues to follow AHS guidelines which allow up to 15% capacity. We have implemented additional measures including registration, check-in, marked prayer spaces 6ft apart, temperature scanners at entrances, and limited social interactions.
As MAC welcomes the second Ramadan in the pandemic, we encourage our community to continue being safe, maintain physical distancing, follow the public health guidelines, and get the vaccination when possible.
Facts about Ramadan and the Athan
The Muslim Association of Canada (MAC) has also developed an Athan toolkit for use by local mosques to reach out, build understanding and engage neighbours of other faiths. https://drive.google.com/file/d/1eEDC4QGfY9M9479NapolOthOHOImV2z1/view?usp=drivesdk
Prior to COVID19, the MAC Centre typically welcomes 300 worshippers nightly for the breaking of the fast dinner, prayers, and social events.
The Athan (Aa-thaan) ['th' as in the] is the Islamic call to prayer done melodically, recited [sung] 5 times a day. The purpose is to invite people to gather and pray in congregation.
There are 90,000 Muslims in Edmonton and St. Albert. Muslims are the largest growing community in Edmonton.
About the Muslim Association of Canada
The Muslim Association of Canada (MAC) is a Canadian, independent, national, faith-based, charitable organization, that provides spaces, services and programs for holistic education and personal development for Canadian Muslims. MAC is one of the largest Muslim organizations in Canada operating in 13 cities across Canada. In Edmonton, MAC operates The MAC Centre- Rahma Mosque (6105 172 St), MAC Islamic School (11342 127 St), and the Creative Minds Preschool (10807 Castle Downs Rd).
Athan Promo Video
https://drive.google.com/drive/folders/1nfA5JA6YILf0_jbLxf0RbFy_nJGAkF9v?usp=sharing
MAC Centre Stock Photos
https://drive.google.com/drive/folders/1KcsYk7GPbVZV-seXHIy5GmA0H3OW-0XJ?usp=sharing
Media Contacts
Yasin Cetin
MAC Outreach and Engagement Advisor
ycetin@edmonton.macnet.ca
780-720-2289
Janice Schroeder, Communications
City of Edmonton
janice.schroeder@edmonton.ca
780-920.404