Ford 'horrified' after downtown mosque is vandalized for sixth time since June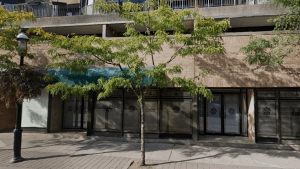 Chris Fox, CP24.com
Published Tuesday, August 18, 2020 11:42AM EDT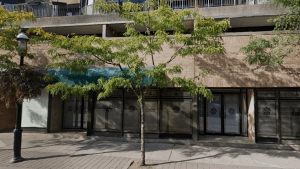 Ford 'horrified' after downtown mosque is vandalized for sixth time since June
A downtown mosque has been targeted by vandals for the sixth time in three months.
Police say that they were called to the Adelaide Street location of Masjid Toronto just after 11 p.m. on Sunday for a report of a broken window.
According to a press release issued by the Muslim Association of Canada, the incident is just the latest in a recent series of "vandalism attacks and acts of hate" towards the mosque.
They say that there have been a combined six incidents at the Adelaide and Dundas Street locations of Masjid Toronto since June. Those incidents, they say, have ranged from break-in attempts to broken windows and racist graffiti.
"The broken windows from the last incident were just fixed and now they are again to be repaired for the third time in a 21-day period," the release notes. "These incidents are now occurring at a frightening rate and we cannot accept to wait any longer for police action."
The Muslim Association of Canada said in the release that it believes the vandalism that has occurred at Masjid Toronto is intended "to intimidate the Muslim Community" and that police need to "step up" and "offer the protection needed at this time of difficulty."
Toronto police, however, maintain that they are taking the incidents seriously.
In a statement released on Tuesday afternoon, the Toronto Police Service said that there are currently six separate investigations taking place in connection with the vandalism at Masjid Toronto with two arrests already having been made.
They also said that the hate crime unit has been made aware of the investigations, though none of the incidents have been formally deemed to be hate-related at this point.
"Toronto Police Service members from 51 and 52 Division have met with members of the mosques and will continue to work with them and update them on the incidents," the statement reads. "If further incidents have taken place, or anyone has information about the ongoing investigations, we would urge them to contact police."
Ford speaks out
The repeated vandalism experienced by Masjid Toronto in recent weeks and months has prompted a number of leaders to speak out and offer their support to the Muslim community. .
In a message posted to Twitter earlier on Tuesday, Premier Doug Ford said that he was "horrified" to learn of the latest incident.
He said that there is simply "no place for these disgusting actions and behaviour" and that "we will find who is responsible and get justice for all those affected."
Mayor John Tory, meanwhile, said in a statement issued late Tuesday afternoon that "any form of harm towards a place of worship and those who visit these places" is very concerning.
"People who frequent places of worship, such as the Masjid, gather for prayer and peace," he said. "Stoking fear through acts of destruction are contrary to our city's values and beliefs and can have lasting impacts on the communities that rely on them."
Original article found here.