Sixth Hate Crime & Vandalism at Masjid Toronto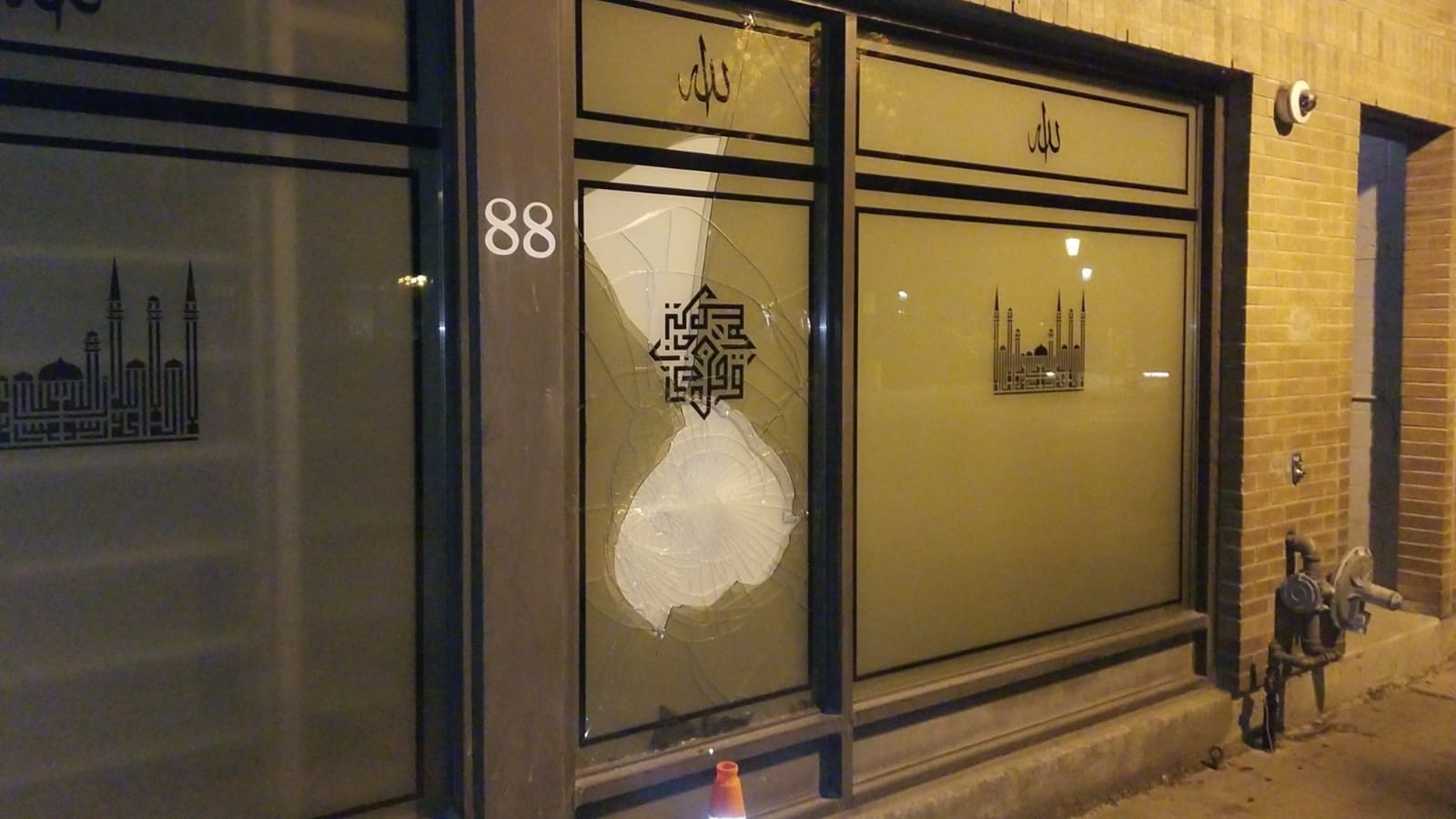 Mississauga – August 17th 2020 – The Muslim Association of Canada (MAC) issued a press release on July 30th calling on Toronto Police, local authorities and elected officials to take serious action to investigate and put an end to a series of sixth consecutive of vandalism attacks and acts of hate towards Masjid Toronto, located in downtown Toronto, all within a period of three months. Toronto Police arrested the culprit of the fifth attack and determined it as mischief. We remain concerned that mischief is not the intention of these attacks. The first four attacks have not been resolved to date. These attacks include break-in attempts, broken windows, and racist graffiti on walls, windows.
Yesterday August 16th, 2020 a sixth attack took place and has been reported to Toronto Police. The windows at the Masjid Toronto location on Adelaide St. were broken. The broken windows from the last incident were just fixed and now they are again to be repaired for the third time in a 21 day period.
These incidents are now occurring at a frightening rate and we cannot accept to wait any longer for police action. MAC condemns these acts of hate that threaten the safety of our community.
The Muslim community needs local authorities to step up to the responsibility and offer the protection needed at this time of difficulty. These attacks are meant to intimidate the Muslim Community. Masjid Toronto is one of the most visited Mosques in the Greater Toronto Area.We need our community's officials to stand up and take action in the wake of these incidents as we cannot risk the safety of any member of our community.
Anti-Muslim Sentiment has been on rise with the pandemic from online hate to an increase of incidents at places of worship. We have expressed concern to Toronto the Police on July 30th with concern that we cannot afford to be idle and wait for more incidents to occur.
We call on Interim Chief James Ramer to address these attacks and further investigate these hate incidents and Islamophobic acts towards our community, find the perpetrators, hold them accountable and protect the mosque and Muslims from future attacks.
For further information, please email communications@macnet.ca or call (905) 822-2626 x 233