MAC REOPENING CENTERS IN ALBERTA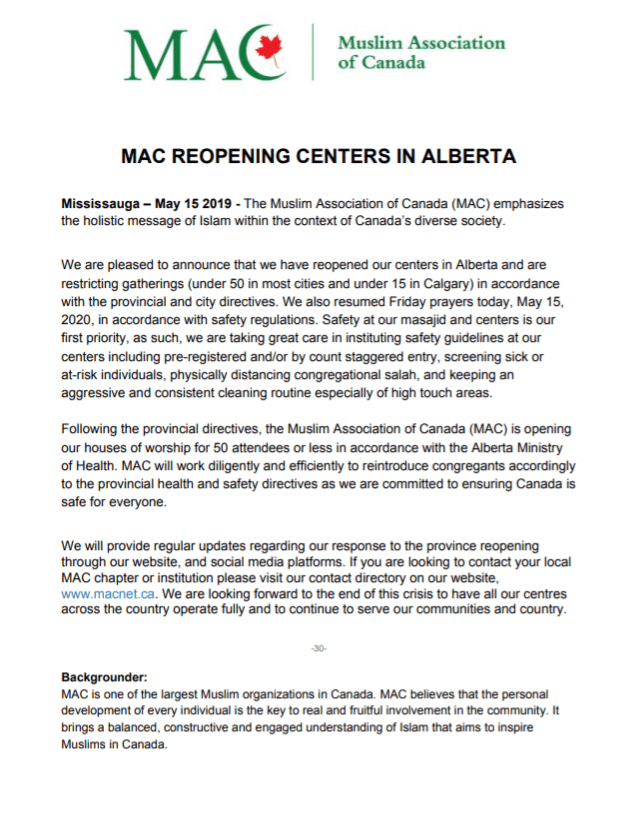 MAC REOPENING CENTERS IN ALBERTA
Mississauga – May 15 2019 – The Muslim Association of Canada (MAC) emphasizes the holistic message of Islam within the context of Canada's diverse society.
We are pleased to announce that we have reopened our centers in Alberta and are restricting gatherings (under 50 in most cities and under 15 in Calgary) in accordance with the provincial directives. We also resumed Friday prayers today, May 15, 2020, in accordance with safety regulations. Safety at our masajid and centers is our first priority, as such, we are taking great care in instituting safety guidelines at our centers including pre-registered and/or by count staggered entry, screening sick or at-risk individuals, physically distancing congregational salah, and keeping an aggressive and consistent cleaning routine especially of high touch areas.
Following the provincial directives, the Muslim Association of Canada (MAC) is opening our houses of worship for 50 attendees or less in accordance with the Alberta Ministry of Health. MAC will work diligently and efficiently to reintroduce congregants accordingly to the provincial health and safety directives as we are committed to ensuring Canada is safe for everyone.
We will provide regular updates regarding our response to the province reopening through our website, and social media platforms. If you are looking to contact your local MAC chapter or institution please visit our contact directory on our website, www.macnet.ca. We are looking forward to the end of this crisis to have all our centres across the country operate fully and to continue to serve our communities and country.
-30-
Backgrounder:
MAC is one of the largest Muslim organizations in Canada. MAC believes that the personal development of every individual is the key to real and fruitful involvement in the community. It brings a balanced, constructive and engaged understanding of Islam that aims to inspire Muslims in Canada.