MAC ANNOUNCES EID AL-ADHA 1441 Friday July 31st, 2020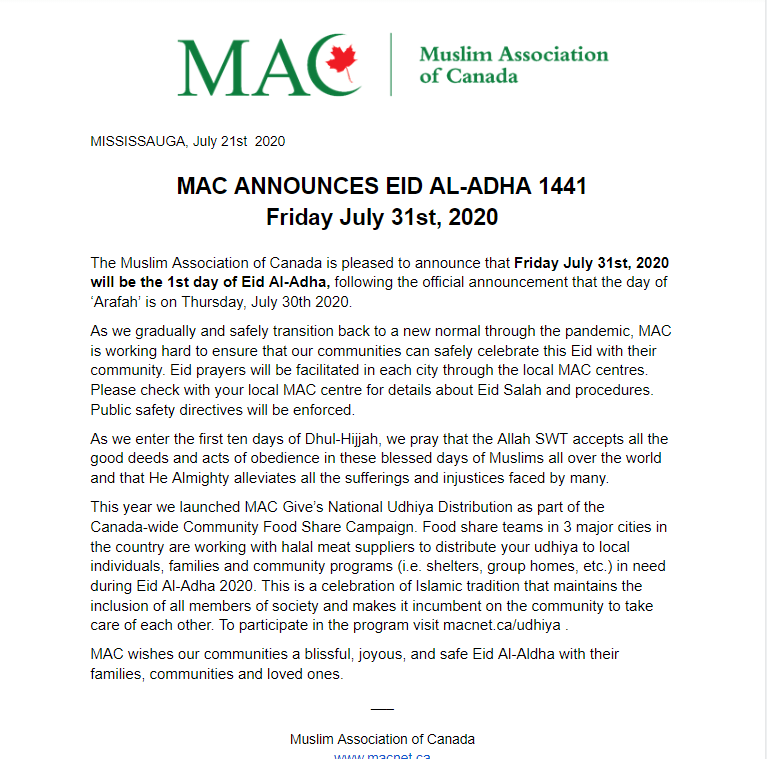 MISSISSAUGA, July 21st 2020
MAC ANNOUNCES EID AL-ADHA 1441
Friday July 31st, 2020
The Muslim Association of Canada is pleased to announce that Friday July 31st, 2020 will be the 1st day of Eid Al-Adha, following the official announcement that the day of 'Arafah' is on Thursday, July 30th 2020.
As we gradually and safely transition back to a new normal through the pandemic, MAC is working hard to ensure that our communities can safely celebrate this Eid with their community. Eid prayers will be facilitated in each city through the local MAC centres. Please check with your local MAC centre for details about Eid Salah and procedures. Public safety directives will be enforced.
As we enter the first ten days of Dhul-Hijjah, we pray that the Allah SWT accepts all the good deeds and acts of obedience in these blessed days of Muslims all over the world and that He Almighty alleviates all the sufferings and injustices faced by many.
This year we launched MAC Give's National Udhiya Distribution as part of the Canada-wide Community Food Share Campaign. Food share teams in 3 major cities in the country are working with halal meat suppliers to distribute your udhiya to local individuals, families and community programs (i.e. shelters, group homes, etc.) in need during Eid Al-Adha 2020. This is a celebration of Islamic tradition that maintains the inclusion of all members of society and makes it incumbent on the community to take care of each other. To participate in the program visit https://www.macnet.ca/udhiya/
MAC wishes our communities a blissful, joyous, and safe Eid Al-Aldha with their families, communities and loved ones.
___
Muslim Association of Canada