A Ring of Peace Becomes Much More | CJN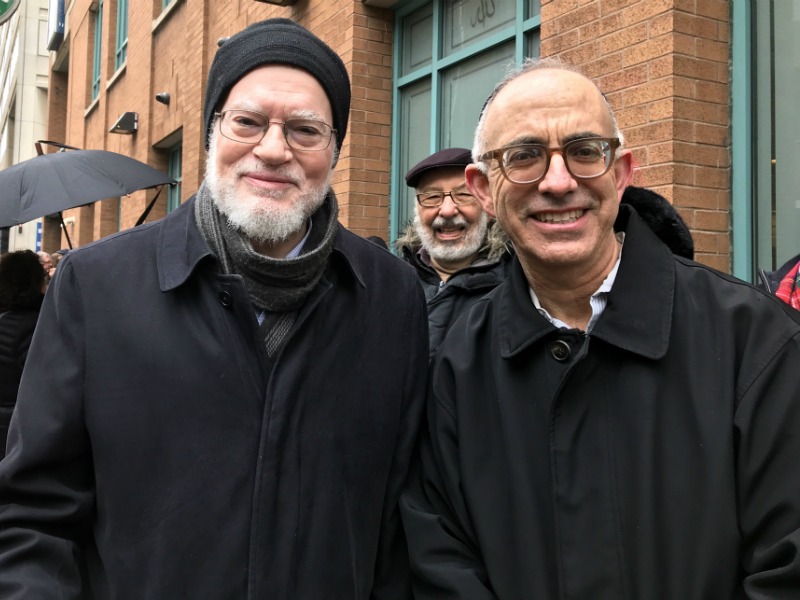 I took part in the Ring of Peace last Friday with my synagogue not because I'm political. I'm not. I didn't go because I'm a journalist, as I might have in the past to cover a story. I just felt it was important to be there.
And then I felt the urge to write about it, because the experience was exceptional in two different ways. It exceeded our group's expectations for goodwill and connection, which was gratifying but perhaps not so unusual. It also morphed into an extended visit after a representative of the mosque invited us inside, out of the cold wind, as we gathered outside the building. To the best of my knowledge, this didn't happen at the other mosques.
About 40 or 50 people from Beth David B'nai Israel Beth Am and Temple Emanu-El met at the Islamic Society of Markham – Jam'e Masjid Markham on March 22, one of 13 such groups organized by the Toronto Board of Rabbis in the wake of the shootings that killed 50 people at two mosques in Christchurch, New Zealand.
Members of the Muslim community in Toronto and other cities had similarly shown their solidarity with the Jewish community after the shooting attack at Pittsburgh's Tree of Life synagogue last fall.
READ: RINGS OF PEACE HELD OUTSIDE CANADIAN MOSQUES
Our group accepted the invitation to enter the mosque, dividing in two as women entered through one door and men through another. We removed our shoes and boots, and many of the women used their winter scarves to cover their hair as respectful guests, while mosque staff and members brought out dozens of chairs for us to sit on.
During the service, Beth David's Rabbi Philip Scheim addressed the congregation, bringing a message of support and solidarity. He spoke of embracing the language of love over fear. A mosque representative, in his talk, referenced the common heritage of Jews and Muslims going back to Abraham, the patriarch, calling us "brother cousins."
We expected that our visit would end shortly after the service, when there were many handshakes and thank-you's. Rabbi Scheim said some people thanked him with tears in their eyes.
But our visit continued when we were invited to tour the mosque and stay for coffee and donuts. Rabbi Scheim was asked to speak again at the next service. Our hosts were solicitous, ensuring that everyone was offered food and drink individually, and expressing concern over whether the food met our kashrut standards.
But above and beyond the goodwill evidenced on both sides, there was genuine interest in learning about each other. Conversations sprang up about a range of mutually interesting topics – children's education, food (kashrut/halal), the specifics of prayer, security at religious institutions, how to balance work and religious observance, how to fight hatred.
One Muslim woman said the haters are the ones "with the megaphones," while other people are quieter. But she expressed her belief that love will win. She was not the only one to say goodbye with a hug.

---
Original article can be found at http://bit.ly/2V8eNdn