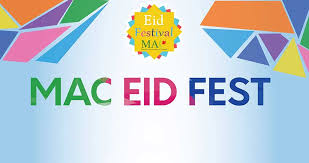 Fête de l'Eid Al-Fitr Montréal
Fête de l'Eid Al-Fitr Montréal 2019
Fête Eid El Fitr 2019 / Eid Festival – MAC Montréal
Message en Français | An English message will follow
L'Association Musulmane du Canada (MAC), chapitre de Montréal , est heureuse de vous inviter à sa prochaine Fête de l'Eid Al-Fitr .
Date : samedi 8 juin 2019 de 10 h – 19 h
Nourriture halal | Bazar | Promenades à Poney
Programme adulte gratuit | Carnaval (12 $ par enfant 3+)
Jeux gonflables | Spectacle d'animaux | Olympiques de jeunes
Peinture de visage
Billets sur place
Pour plus d'information et pour le Baazar s'il vous plaît contacter le numéro suivant : 438-538-7996
                            The Muslim Association of Canada, Montréal Chapter                            is happy to invite you to its upcoming Eid Al-Fitr
Saturday 8th June 2019 at 11 AM – 7 PM
The festival will consist of the following:
Halal Food |  Bazar | Pony Rides | Free Adult Program | Face Painting
Carnival (12$ per kid 3+) | Bouncy Castles | Pet Show | Youth Olympics
Tickets on site
For more information and for the Bazar please contact the following number: 438-538-7996
A Brief Reflection on Eid Al-Fitr
Eid Al-Fitr: A Day of Thanksgiving, Joy, and Generosity
Eid Al-Fitr marks the successful completion of the holy month of Ramadan. It is a festival that signifies the achievement of an act of duty and devotion. On the early morning of Eid day, Muslims come together to pray, reflect, and thank God for His blessings.
Eid, moreover, is a social and joyful occasion. Muslims exchange Eid greetings and share happy moments with families, friends, and neighbours. Eid is also a time of caring and giving back to our societies as God and Prophet Muhammad (peace be on him) have instructed us to support and help those who are in need so that everyone would feel the joy and happiness of Eid.
Eid, therefore, is a day of prayers, generosity, social solidarity, and joy.
From our Family to Yours, Eid Mubarak!
To learn more, visit this site.
The Muslim Association of Canada's Eid prayers are among the longest established Muslim Community events in Toronto and Canada. The first one was held in Toronto in 1975 at the Queen Elizabeth Building in the CNE grounds.
We invite you to join us with your family and loved ones to a day of celebration and fond memories, inshAllah.
Boulevard Gouin Ouest
,
Montréal, Québec

,

Canada