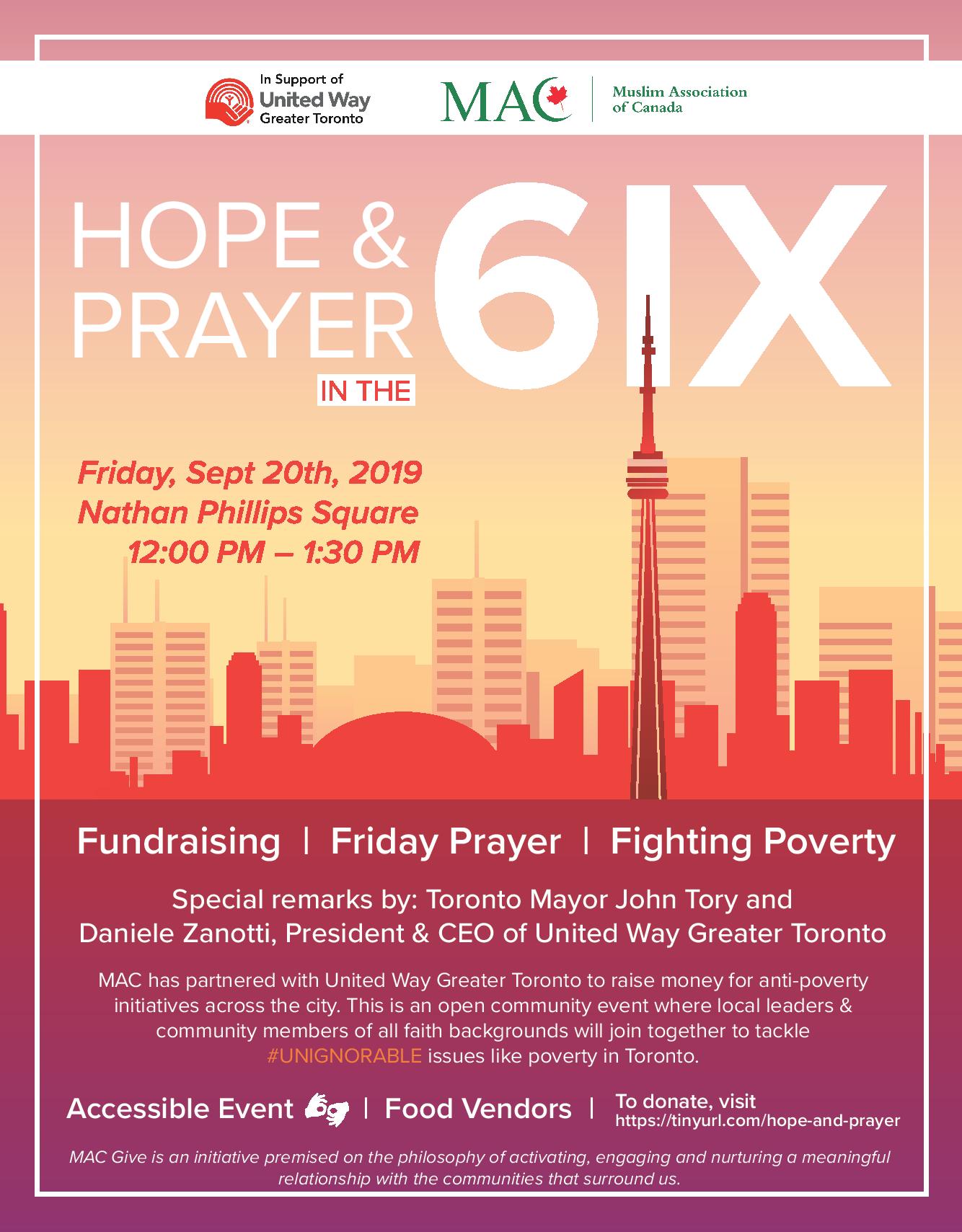 Hope and Prayer in the 6ix
As summer comes to an end and school begins, there are many across our communities—often right in our backyard— in the GTA and beyond who are facing hardships.   Whether it is an inadequate shelter, homelessness, unemployment, newcomer and settlement challenges, or struggles in mental health or disabilities – there are various challenges that thousands of Torontonians face each day.  They suffer the crippling consequences of unfulfilled basic needs.
We invite you to help bring hope in alleviating these issues in our city.  MAC Give is partnering with the City of Toronto to raise funds to support anti-poverty initiatives across the city.
On September 20th, 2019, thousands of Muslims and non-Muslims will gather together in Nathan Phillips Square to offer Hope & Prayer in the 6ix.  This is an open community event where local leaders and community members of all faith backgrounds will join together to tackle #UNIGNORABLE issues like poverty in Toronto.
MAC Give is an initiative premised on the philosophy of activating, engaging and nurturing a meaningful relationship with the communities that surround us.  MAC is strongly committed towards community engagement and growth.
Ways you can help us bring Hope:
Join us to create awareness and show support on Friday, September, 20th 2019
Donate to the campaign and help alleviate poverty and homelessness in the region
Invite a friend – everyone is invited!
The success of this event depends on your generous support for initiatives like these. We have reached around 60,000 CAD of offline donations and commitments from individual and supporting charities. We count on your support to achieve our 10,000 CAD online donations target.