UPDATE: Extension of MAC School Closures & Continuing Online Learning Programs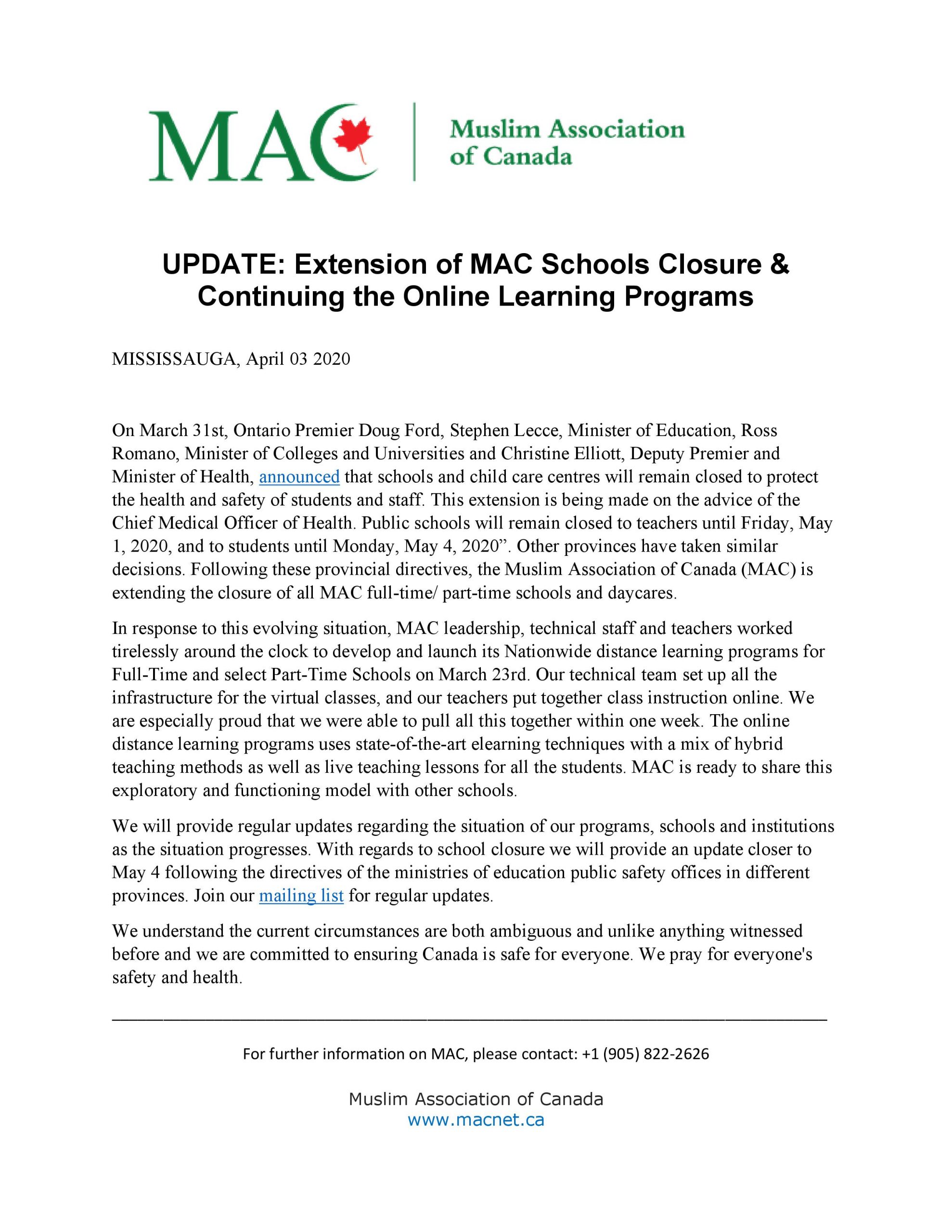 UPDATE: Extension of MAC School Closures &
Continuing Online Learning Programs
MISSISSAUGA, April 03 2020
On March 31st, Ontario Premier Doug Ford, Stephen Lecce, Minister of Education, Ross Romano, Minister of Colleges and Universities and Christine Elliott, Deputy Premier and Minister of Health, announced that schools and child care centers will remain closed to protect the health and safety of students and staff. This extension is being made on the advice of the Chief Medical Officer of Health. Public schools will remain closed to teachers until Friday, May 1, 2020, and to students until Monday, May 4, 2020". Other provinces have taken similar decisions. Following these provincial directives, the Muslim Association of Canada (MAC) is extending the closure of all MAC full-time/ part-time schools and daycares.
In response to this evolving situation, MAC leadership, technical staff and teachers worked tirelessly around the clock to develop and launch its Nationwide distance learning programs for Full-Time and select Part-Time Schools on March 23rd. Our technical team set up all the infrastructure for the virtual classes, and our teachers put together class instruction online. We are especially proud that we were able to pull all this together within one week. The online distance learning programs uses state-of-the-art elearning techniques with a mix of hybrid teaching methods as well as live teaching lessons for all the students. MAC is ready to share this exploratory and functioning model with other schools.
We will provide regular updates regarding the situation of our programs, schools and institutions as the situation progresses. With regards to school closure we will provide an update closer to May 4 following the directives of the ministries of education public safety offices in different provinces. Join our mailing list for regular updates.
We understand the current circumstances are both ambiguous and unlike anything witnessed before and we are committed to ensuring Canada is safe for everyone. We pray for everyone's safety and health.
____________________________________________________________________________________
For further information on MAC, please contact: +1 (905) 822-2626
Muslim Association of Canada
www.macnet.ca